Learning Objectives
This is a beginning to intermediate course. Upon completion of this course, mental health professionals will be able to:
Apply the concepts of privacy, confidentiality, and privilege to mental health records.
Explain how current technologies require policies that differ from those based on paper documents.
Discuss which situations trigger legal waivers to break confidentiality.
Explain your obligations regarding confidential information when a client poses a danger to self or others.
List the essential requirements governing release of records to third parties.
The materials in this course are based on current published ethical standards and the most accurate information available to the authors at the time of writing. Many ethical challenges arise on the basis of highly variable and unpredictable contextual factors. This course material will equip clinicians to have a basic understanding of core ethical principles and standards related to the topics discussed and to ethical decision-making generally, but cannot cover every possible circumstance. When in doubt, we advise consultation with knowledgeable colleagues and/or professional association ethics committees.
Course Outline
HISTORICAL CONTEXT

Secrets of Dead People
Espionage
Sensitivity to Technological Developments


A PROBLEM OF DEFINITIONS

Privacy
Confidentiality
Privilege


LIMITATIONS AND EXCEPTIONS

Statutory Obligations
Malpractice and Waivers
The Duty to Warn or Protect Third Parties from Harm
HIV and AIDS
Imminent Danger and Confidentiality


ACCESS TO RECORDS AND PERSONAL HEALTH INFORMATION

Consent for the Release of Records
Client Access to Records
Access by Family Members
Court Access to Records
Computer Records and Cyberconfidentiality
Third-Party Access: Insurers and Managed Care


TAKING ADVANTAGE OF CONFIDENTIAL INFORMATION
RECORD CONTENT RETENTION AND DISPOSITION

Content of Records
Record Retention
Disposition

Introduction: What do you know, and who will you tell?
The confidential relationship between mental health professionals and their clients has long stood as a cornerstone of the helping relationship. The trust conveyed through assurance of confidentiality seems so critical that some have gone so far as to argue that therapy might lack all effectiveness without it (Epstein, Steingarten, Weinstein, & Nashel, 1977). In the words of Supreme Court Justice John Paul Stevens, citing the amicus briefs of the American Psychological and Psychiatric Associations:
Effective psychotherapy…depends upon an atmosphere of confidence and trust in which the patient is willing to make a frank and complete disclosure of facts, emotions, memories, and fears. Because of the sensitive nature of the problems for which individuals consult psychotherapists, disclosure of confidential communications made during counseling sessions may cause embarrassment or disgrace. For this reason, the mere possibility of disclosure may impede development of the confidential relationship necessary for successful treatment. (Jaffe v Redmond, 1996)
The changing nature of societal demands and information technologies have led many to express concerns about the traditional meaning of confidentiality in mental health practice and even whether true privacy exists any more.
Material in this online course has been adapted from Ethics in Psychology and the Mental Health Professions: Standards and Cases (4th Edition), published by Oxford University Press, and additional new material has been added. © 2016 Gerald P. Koocher and Patricia Keith-Spiegel, all rights reserved. Please note that all case material has been drawn from public records or the experience of the authors. Public cases are documented with media or legal citations. Other cases use intentionally humorous names and disguised details to protect the privacy of those involved.
HISTORICAL CONTEXT
American history provides ample public examples of how breaches in confidentiality of mental health data have had major implications for both the clients and society. Thomas Eagleton, a United States Senator from Missouri, was dropped as George McGovern's vice presidential running mate in 1968 when it was disclosed that he had previously been hospitalized for the treatment of depression (Post, 2004). Dr. Lewis J. Fielding, better known as "Daniel Ellsberg's psychiatrist," certainly did not suspect that the break-in at his office by F.B.I. agents on September 3, 1971, might ultimately lead to the conviction of several high officials in the Nixon White House and contribute to the only resignation of an American president (Morganthau, Lindsay, Michael, & Givens, 1982; Stone, 2004). Disclosures of confidential information received by therapists also played prominently in the press during the well-publicized murder trials of the Menendez brothers (Scott, 2005) and O. J. Simpson (Hunt, 1999). In the Menendez case, threats made by one brother to the other's psychotherapist, Dr. Jerome Oziel, contributed to their conviction. In the Simpson case, a psychotherapist who had briefly treated the late Nicole Simpson drew national attention when she felt the need to "go public" shortly after the homicide, revealing content from the therapy sessions. Subsequently, that same therapist drew disciplinary sanctions from the California licensing board because of that confidentiality violation.
Secrets of Dead People
Should a mental health professional's duty of confidentiality end when a client dies? Consider the following actual cases.
Case 1:
After the deaths of Nicole Brown Simpson and Ron Goldman (see: Hunt, 1999) Susan J. Forward, a clinical social worker who had held two sessions with Ms. Simpson in 1992, made unsolicited disclosures regarding her deceased former client. Ms. Forward commented in public that Ms. Simpson had allegedly reported experiencing abuse at the hands of O. J. Simpson.
The California Board of Behavioral Science Examiners subsequently barred Ms. Forward from seeing patients for 90 days and placed her on three years' probation. In announcing the decision Deputy Attorney General, Anne L. Mendoza, who represented the board, commented, "Therapy is based on privacy and secrecy, and a breach of confidentiality destroys the therapeutic relationship" (Associated Press, 1995). Ms. Mendoza also noted that Ms. Forward had falsely represented herself as a psychologist in television interviews. Ms. Forward later asserted that she had not violated patient confidentiality because the patient was dead, but had agreed not to appeal the board's decision in order to avoid a costly legal fight.
Case 2:
On July 20, 1993, Vincent Walker Foster, Jr. was found dead in Fort Marcy Park, near Virginia's George Washington Parkway. At the time, Mr. Foster served as a deputy White House counsel during President Clinton's first term. He had also been a law partner and personal acquaintance of Hillary Clinton. Foster had struggled with depression and had a prescription for Trazodone, authorized by his physician over the telephone just a few days earlier. His body was found with a gun in one hand, and gunshot residue on that hand. An autopsy determined that he died as the result of a shot in the mouth. A draft of a resignation letter, torn into 27 pieces, lay in his briefcase. Part of the note read, "I was not meant for the job or the spotlight of public life in Washington. Here ruining people is considered sport" (Apple, 1993). Following investigations conducted by the United States Park Police, the United States Congress, and Independent Counsels Robert B. Fiske and Kenneth Starr, his death was ruled a suicide.
Shortly before his death, Mr. Foster had met with James Hamilton, his personal attorney. Kenneth D. Starr, the Special Prosecutor investigating the Clinton Administration, sought grand jury testimony from Foster's lawyer. Foster's family refused to waive the deceased man's legal privilege and Hamilton declined to testify. The case quickly reached the Supreme Court, which deemed communications between a client and a lawyer protected by attorney-client privilege even after the client's death by a 6 to 3 vote. The majority opinion written by Chief Justice Rehnquist noted that, "A great body of case law and weighty reasons support the position that attorney-client privilege survives a client's death, even in connection with criminal cases" (Swidler & Berlin and James Hamilton v. United States, 1998).
Case 3:
Author Diane Middlebrook set out to write a biography of then-deceased Pulitzer Prize winning poet Anne Sexton with the permission of Sexton's family (Middlebrook, 1991). Martin Orne, M.D., Ph.D. served as Sexton's psychotherapist for the last years of her life. At Sexton's request, Dr. Orne had tape recorded the sessions so that Sexton, who had a history of alcohol abuse and memory problems, could listen to them as she wished. Dr. Orne had not destroyed the tapes and Ms. Middlebrook sought access to them to assist in her writing. Linda Gray Sexton, the poet's daughter and executrix of her literary estate, granted permission, and Dr. Orne released the tapes as requested.
Dr. Orne's release of the audiotapes caused considerable debate within the profession despite authorized release (Burke, 1995; Chodoff, 1992; Goldstein, 1992; Joseph, 1992; Rosenbaum, 1994). Unlike the Simpson and Foster cases, the Sexton case involved release of the audio records approved by a family member with full legal authority to grant permission. In some circumstances, courts may order opening a deceased person's mental health records. Examples might include assisting an inquest seeking to rule on suicide as a cause of death or to determine the competence of a person to make a will should heirs dispute the document at probate. Cases 1 through 3 involved situations with clear legal authority; however, often mental health professionals will encounter circumstances in which the solution must rely on ethical principles as well as legal standards (Werth, Burke, & Bardash, 2002). For example, in some situations, the legal standard may allow disclosure, whereas clinical issues or the mental health of others may lead to an ethical decision in favor of nondisclosure.
Consider the following case:
Case 4:
Sam Saddest had cystic fibrosis with severe lung disease. In his mid-20s, Sam no longer had enough energy or financial resources to live independently, although his illness did not seem likely to prove fatal for at least two to three more years. His medical condition forced him to give up his own apartment and move in with his divorced father, who had plans to marry again, this time a woman with two children, none of whom Sam liked. With his therapist, Michael Muted, M.D., Sam discussed his sadness about his mortality, unhappiness about the impending living situation, and resulting thoughts about suicide. Despite excellent clinical care and suicide precautions, Sam killed himself without reporting increased suicidal ideation or giving a hint of warning to anyone. Sam's father subsequently met with Dr. Muted in an effort to understand Sam's death. Dr. Muted discussed Sam's frustration with his terminal illness and inability to continue living independently, knowing that the father understood those issues well. However, Dr. Muted never disclosed Sam's distress about the father's planned remarriage or unhappiness with the soon-to-be blended family situation.
In this case, the therapist made efforts to assist the survivor of a family member's suicide to cope. The father readily understood and had known about these issues through discussions with his son over the prior months. Sam had not discussed his feelings about his father's remarriage openly as he did not want to hurt his father or stir up a sense of guilt. Dr. Muted's decision to keep Sam's confidence post death respected Sam's preferences and avoided causing incremental distress to the surviving family members. The key to resolving such issues will involve remembering that clients do have some rights to confidentiality that survive them, and giving due consideration to the welfare of the survivors.
Espionage
More recently, following the attack on the World Trade Center, the Foreign Intelligence Surveillance Act (FISA) and Section 215 of the USA Patriot Act (i.e., officially known as "Uniting and Strengthening America by Providing Appropriate Tools Required to Intercept and Obstruct Terrorism Act of 2001") have made it clear that the illegal break-in to Dr. Fielding's office in 1971 could conceivably become a routinely legal practice just three decades later (Morganthau, Lindsay, Michael, & Givens, 1982; Stone, 2004). Provisions of the Act covering roving wiretaps, searches of business records, and surveillance of so-called "lone wolves" (i.e., individuals suspected of posing terrorist threats, although unaffiliated with terrorist groups) now extend until 2015 (Mascaro, 2011). Although we know of no instance in which a mental health professional has faced secret searches of client records based on national security, the well documented case of Theresa Squillacote illustrates the potential intrusion of security agencies into the realm of psychotherapy.
Case 5:
Theresa Marie Squillacote, a.k.a. Tina, a.k.a. Mary Teresa Miller, a.k.a. The Swan, a.k.a. Margaret, a.k.a. Margit, a.k.a. Lisa Martin, and her husband, Kurt Stand were convicted of espionage. Squillacote earned a law degree and worked for the Department of Defense in a position requiring security clearance. In 1996, the FBI obtained a warrant to conduct clandestine electronic surveillance, including the monitoring of all conversations in Squillacote's home, calls made to and from the home, and Squillacote's office. Based on the monitored conversations, including Squillacote's conversations with her psychotherapists, a Behavioral Analysis Program team (BAP) at the FBI, prepared a report of her personality for use in furthering the investigation. The BAP report noted that she suffered from depression, took anti-depressant medications, and had "a cluster of personality characteristics often loosely referred to as 'emotional and dramatic.'" The BAP team recommended taking advantage of Squillacote's "emotional vulnerability," by describing the type of person with whom she might develop a relationship and pass on classified materials. Ultimately, she did transmit national defense secrets to a government officer who posed as a foreign agent and used strategies provided by the BAP team (United States v. Squillacote, 2000).
Consider the possibilities with today's "smart phone" technologies. Potential lone-wolf terror suspects can theoretically now be tracked and monitored while visiting their psychotherapists' offices with devices that capture the therapist-client interaction in real time!
Sensitivity to Technological Developments
We cannot ignore the special sensitivity of information gleaned by both clinicians and behavioral scientists in their work, whether assessment, psychotherapy, consultation, or research. Unfortunately, the complexity of the issues related to the general theme of confidentiality often defies easy analysis. Bersoff writes of confidentiality that, "no ethical duty [is] more misunderstood or honored by its breach rather than by its fulfillment" (1995, p. 143). Modern telecommunications and computers have substantially complicated matters. Massive electronic databases of sensitive personal information can easily be created, searched, cross tabulated, combined with tracking signals, and transmitted around the world at the speed of light. Even prior to the Internet and the World Wide Web, mental health professionals expressed concerns about the threats posed to individual privacy and confidentiality by computerized data systems (Sawyer & Schechter, 1968).
Lax practices with fax or other electronic transmissions provide but one example of ways that technology can lead to unintended or inadvertent betrayal of confidentiality:
Case 6:
Edgar Fudd, Ph.D., decided to send the third billing notice to a slow-to-pay client to the fax machine in the client's office. However, the client was not in the office that day. The bill labeled psychological services rendered with the client's name and "Third Notice--OVERDUE!!" handwritten with a wide marker sat in the open-access mail pickup tray of the busy office all day.
Case 7:
Sentin Haste, M.S.W., was in a hurry to turn in her billing slip and medical record notations at the hospital where she worked. The usual practice involved slipping the forms into a scanning system that e-mailed copies to the central record-processing office. As she quickly punched in the e-mail address, an auto-completion function entered the address of her bridge club list server. Nearly 100 of her fellow players received electronic copies.
Fudd's behavior was obviously improper, and he should have known better. Even if he was angry at the client for ignoring his bill, he should have surmised that others in a place of business likely had access to the fax machine. Obviously, no private or sensitive material should be sent via fax unless it is known for sure that the recipient is the only one with access to it or a telephone call verifies that the intended party is standing by the machine, ready to retrieve it. In addition, Fudd's creditor message sent to the client's workplace may violate debt collection laws.
Haste's misstep illustrates the danger of transmitting confidential information in error. She hastily sent a message to the bridge club explaining the error and asking them to delete the prior message without reading it. To make matters worse, several of her fellow bridge club members "replied all," saying "What an awful accident," thereby calling even more attention to the error. Of course, she had no idea how many read the confidential patient information or deleted it. Ms. Haste had to report the error to her institution, which in turn had to notify the patient of the record breach under federal law.
In another case, scores of detailed, confidential medical records are reported to have been faxed to an accountant's office with a telephone number very similar to that of the intended recipient. Despite the accountant's numerous attempts to inform the sender so that the situation could be remedied, confidential records continued to arrive at her office (Stanley & Palosky, 1997).
Mental health professionals have both ethical and legal obligations to keep records of various sorts (e.g., interactions with clients and research participants, test scores, research data, and even patient account information) and must safeguard these files. Increasingly, people seek all types of medical and psychological information about others and about themselves. This leads to an entirely new subset of problems on the matter of records: What is in them? Who should keep them? How long should they be kept? Who has access? Is this a legal matter or a professional standard? How do these policies have an impact on the ethical principle of confidentiality? What about the rights of our students and research subjects? We attempt to address all such matters in this course.
A PROBLEM OF DEFINITIONS
Figure 1
Illustration of Breadth of Protections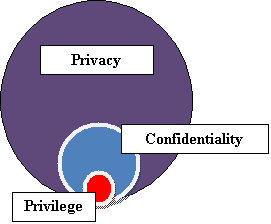 Confusion about three commonly used terms: privacy, confidentiality, and privilege, often complicates discussions of ethical problems in this arena. Figure 1 attempts to illustrate the breadth of coverage for each of the concepts (described below) using a Venn diagram. At least part of the confusion flows from the fact that in particular situations these terms may have narrow legal meanings quite distinct from the broader traditional meanings attached by mental health practitioners. Many difficulties link to a failure on the part of professionals to discriminate among the different terms and meanings. Still other dilemmas stem from the fact that legal obligations do not always align with ethical responsibilities.
Privacy
Although the word "privacy" does not occur in the United States Constitution, some amendments (e.g., freedom of speech and to peaceably assemble, protection from unwarranted search and seizure, and to be "secure in their persons, houses, papers, and effects) provides safeguards against unbridled government intrusion, as expanded in Justice Brandies' oft-cited dissent in Olmstead et al. v. U.S. (1928):
The makers of our Constitution undertook to secure conditions favorable to the pursuit of happiness. They recognized the significance of man's spiritual nature, of his feelings, and of his intellect. They knew that only a part of the pain, pleasure and satisfactions of life are to be found in material things. They sought to protect Americans in their beliefs, their thoughts, their emotions and their sensations. They conferred to individuals, as against the Government, the right to be let alone – the most comprehensive of rights, and the right most valued by civilized men.
Privacy involves the basic entitlement of people to decide how much of their property, thoughts, feelings, or personal data to share with others. In this sense, privacy seems essential to ensure human dignity and freedom of self-determination. In Figure 1, the breadth of the concept is represented in the largest circle.
The concepts of both confidentiality and privilege grow out of the broader concept of an individual's right to privacy. Concern about electronic surveillance, the use of lie detectors, and a variety of other observational or data-gathering activities fall under the heading of privacy issues. The issues involved in public policy decisions regarding the violation of privacy rights parallel concerns expressed by therapists regarding confidentiality violations (Smith-Bell & Winslade, 1994). In general, mental health professionals' privacy rights may fall subject to violation when their behavior seriously violates the norms of society or somehow endangers others. An example would be the issuance of a search warrant based on "probable cause" that a crime has taken place or may soon occur. We discuss these principles from the psychological perspective in greater detail in the pages that follow. However, mental health professionals must also give consideration to the concept of privacy as a basic human right due all people and not simply limited to their clients.
We readily acknowledge that some societies, particularly in Africa and Asia, do not place the same value on individual rights as opposed to community rights, as do most Western societies. Therapists must remain sensitive and respectful to cultural differences in this regard. At the same time, we must also obey the laws of the jurisdictions in which we practice. At times, this may create tensions that require helping people from other cultures to understand applicable laws and regulations that apply in the immediate circumstances at hand.
Case 8:
Shana Shalom, an orthodox Jewish émigré from Israel sought counseling from Hebrew-speaking therapist Tanya Talmud, M.S.W. regarding her unhappy marriage. Ms. Shalom later complained to the state licensing board that Ms. Talmud discussed matters she had disclosed in therapy with the family rabbi without her knowledge or consent. The rabbi, in turn, communicated some of the content to Ms. Shalom's spouse. Ms. Talmud replied to the licensing board that in Israel's orthodox Jewish communities, soliciting aid from a couple's rabbi often proves a useful way to address marital problems.
The licensing board censured Ms. Talmud, reminding her that she treated Ms. Shalom in her capacity as a licensed social worker in the United States, not Israel. In addition, basic ethical principles of autonomy and human dignity entitled Ms. Shalom to have a voice in any decision about disclosing material offered in confidence.
Confidentiality
Confidentiality refers to a general standard of professional conduct that obliges a professional not to discuss information about a client with anyone. In Figure 1, the breadth of the concept is represented in the middle-sized inner circle – narrower than the concept of privacy, but more broad than privilege. Confidentiality may also originate in statutes (i.e., laws enacted by legislatures), administrative law (i.e., regulations promulgated to implement legislation), or case law (i.e., interpretations of laws by courts). But, when cited as an ethical principle, confidentiality implies an explicit contract or promise not to reveal anything about a client except under certain circumstances agreed to by both parties. Although the roots of the concept are in professional ethics rather than in law, the nature of the relationship between client and therapist does have substantial legal recognition (see, for example, jaffee-redmond.org). One can imagine, for example, that clients who believe their confidences have been violated could sue their psychotherapists in a civil action for breach of confidentiality and possibly seek criminal penalties if available under state law. For example, a New York appeals court ruled that a patient may bring a tort action against a psychiatrist who allegedly disclosed confidential information to the patient's spouse, allowing him to seek damages for mental distress, loss of employment, and the deterioration of his marriage (Disclosure of Confidential Information, 1982; Fisher, 2013; MacDonald v. Clinger, 1982).
The degree to which one should, if ever, violate a client's confidentiality remains a matter of some historical controversy (see, for example, Siegel, 1979), despite uniform agreement on one point: all clients have a right to know the limits on confidentiality in a professional relationship from the outset. The initial interview with any client (individual or organizational) should include a direct and candid discussion of limits that may exist with respect to any confidences communicated in the relationship (American Psychological Association [APA]: 4.02; American Association for Marriage and Family Therapy [AAMFT]: 1.13; American Counseling Association [ACA]: B.1.d; National Association of Social Workers [NASW]: 1.07). State and federal laws require providing such information in both health care (e.g., Public Law 104-191, Health Insurance Portability and Accountability Act of 1996; a/k/a: HIPAA) and forensic contexts (e.g., Commonwealth v. Lamb, 1974; Barefoot v. Estelle, 1983). Not only will failure to provide such information early constitute unethical behavior and possibly illegal behavior in health care settings, but such omissions may also lead to clinical problems later. In some contexts conveying such information orally may suffice, but documenting the conversation becomes critical. Health care providers will need to provide a formal written HIPAA notice, and those who provide non-health related services may want to do likewise or possibly provide "new client information" in a pamphlet or other written statement. Every therapist should give sufficient thought to this matter and formulate a policy for his or her practice that complies with applicable law, ethical standards, and personal conviction, integrated as meaningfully as possible given the legal precedents and case examples discussed in the following pages.
Privilege
The concepts of privilege and confidentiality often become confused, and the distinction between them has critical implications for understanding a variety of ethical problems. The concept of privilege (or privileged communication) describes certain specific types of relationships that enjoy protection from disclosure in legal proceedings. In Figure 1, the breadth of this very narrow concept is represented in the smallest circle. Designation of privilege originates in statute or case law and belongs to the client in the relationship. Normal court rules provide that anything relative and material to the issue at hand can and should be admitted as evidence. When privilege exists, however, the client has a degree of protection against having the covered communications revealed without explicit permission. If the client waives this privilege, the clinician must testify on the nature and specifics of the material discussed. The client cannot usually permit a selective or partial waiver. In most courts, once a waiver is given, it covers all of the relevant privileged material.
Traditionally, such privilege extended to attorney-client, husband-wife, physician-patient, and certain clergy relationships. Some jurisdictions now extend privilege to the relationships between clients and mental health practitioners, but the actual laws vary widely, and each mental health professional has an ethical obligation to learn the statutes or case law in force for her or his practice jurisdiction. Prior to 1996 many states addressed the primary mental health professions (i.e., psychologists, psychiatrists, and social workers) while omitting mention of psychiatric nurses, counselors, or generic psychotherapists. (DeKraai & Sales, 1982). The same authors also noted that no federally created privileges existed for any mental health profession and that the federal courts generally looked to applicable state laws. All that changed in 1996 when the U.S. Supreme Court took up the issue based, in part, on conflicting rulings in different federal appellate court districts (Jaffe v. Redmond, 1996).
Case 9:
Mary Lu Redmond was a police officer in Hoffman Estates, Illinois, a suburb of Chicago. On June 27, 1991, while responding to a "fight in progress" call, she fired her weapon and killed Ricky Allen, Sr. as he pursued, rapidly gained ground on, and stood poised to stab another man with a butcher knife. After the shooting, Officer Redmond sought counseling from a licensed clinical social worker. Later, Carrie Jaffe, acting as administrator of Mr. Allen's estate, sued Redmond, citing alleged U.S. civil rights statutes and Illinois tort law. Jaffe wanted access to the social worker's notes and sought to compel the therapist to give oral testimony about the therapy. Redmond and her therapist, Karen Beyer, a licensed clinical social worker refused. The trial judge instructed the jury that refusing to provide such information could be held against Officer Redmond. The jury awarded $545,000 damages based on both the federal civil rights and state laws.
On June 13, 1996, the Supreme Court overturned the lower court decision, upholding the existence of a privilege under Federal Rules of Evidence to patients of licensed psychotherapists by a vote of 7-2. In a decision written by Justice John Paul Stevens, the Court noted that this privilege is "rooted in the imperative need for confidence and trust," and that "the mere possibility of disclosure may impede development of the confidential relationship necessary for successful treatment," (Jaffe v. Redmond, 1996, 4492-4493). Writing for himself and Chief Justice Renquist, Justice Scalia dissented, arguing that psychotherapy should not be protected by judicially created privilege and that social workers were not clearly experts in psychotherapy and did not warrant such a privilege (Smith, 1996). Justice Scalia attempted to simplify the matter by noting: "Ask the average citizen: Would your mental health be more significantly impaired by preventing you from seeing a psychotherapist, or by preventing you from getting advice from your mom? I have little doubt what the answer would be. Yet there is no mother-child privilege." (p. 22). Nonetheless, this case has set a new national standard that affords privilege protections across jurisdictions, generally implying that a Federal privilege extends to licensed mental health professionals.
LIMITATIONS AND EXCEPTIONS
Almost all of the statutes addressing confidentiality or providing privileges expressly require licensing, certification, or registration of mental health professionals under state law, although some states extend privilege when the client reasonably believes the alleged therapist to be licensed (DeKraai & Sales, 1982). Clients of students (including psychology interns, unlicensed postdoctoral fellows, or supervisees) may not specifically have coverage under privilege statutes. In some circumstances, trainees' clients may have privilege accorded to communication with a licensed supervisor, but state laws vary widely, and practitioners should not take this coverage for granted. The oral arguments before the Supreme Court (oyez.org/cases/1990-1999/1995/1995_95_266) relied on the reasonable expectation of the client on such protection, but left unclear whether the clients of unlicensed therapists are protected.
Some jurisdictions permit a judge's discretion to overrule privilege between therapist and client on determination that the interests of justice outweigh the interests of confidentiality. Some jurisdictions limit privilege exclusively to civil actions, whereas others may include criminal proceedings, except in homicide cases. In many circumstances, designated practitioners have a legally mandated obligation to breach confidentiality and report certain information to authorities. Just as some physicians must under some state laws report gunshot wounds or certain infectious diseases, mental health practitioners may have an obligation to report certain cases, such as those involving child abuse, to state authorities. These restrictions could certainly affect a therapeutic relationship adversely, but the client has a right to know any limitations in advance, and the clinician has the responsibility both to know the relevant facts and to inform the client as indicated.
Other circumstances, such as a suit alleging malpractice, may constitute a waiver of privilege and confidentiality. In some circumstances, a client may waive some confidentiality or privilege rights without fully realizing the extent of potential risk. In certain dramatic circumstances, a therapist may also face the dilemma of violating a confidence to prevent some imminent harm or danger from occurring. These matters are not without controversy, but it is important for mental health professionals to be aware of the issues and to think prospectively about how one ought to handle such problems.
When law and ethical standards diverge (e.g., when a confidential communication does not qualify as privileged in the eyes of the law), the situation becomes extremely complex. One cannot, however, ethically fault a therapist for divulging confidential material if ordered to do so by a court of competent authority. On the other hand, one might reasonably question the appropriateness of violating the law if one believes that doing so has become necessary to behave ethically. Consider, for example, the clinician required by state law or court order to disclose some information learned about a client during the course of a professional relationship. If the practitioner claims that the law and ethical principles conflict, then by definition the ethical principles in question would seem illegal. The therapist may choose civil disobedience as one course of action, but does so at his or her own peril in terms of the legal consequences. The American Psychological Association ethics code does mandate that psychologists actively attempt to resolve such conflicts.
Students of ethical philosophy will immediately recognize a modern psychological version of the controversy developed in the writings of Immanuel Kant and John Stuart Mill. Which matters more: the intention of the actor or solely the final outcome of the behavior? For example, if competent therapists, intending to help their clients, initiate interventions that cause unanticipated harm, have they behaved ethically (because they had good intentions) or unethically (because harm resulted)? We do not have the answer. Each situation presents different fact patterns, but the most appropriate approach to evaluating a case would involve considering the potential impact of each alternative course of action and choosing the most reasonable one. Perhaps the best guidepost we can offer involves a kind of balancing test in which the clinician attempts to weigh the relative risks and vulnerabilities of the parties involved. Several of the cases discussed in this course highlight such difficult decisions.
Statutory Obligations
As noted above, in some circumstances the law specifically dictates a duty to notify certain public authorities of information that might be acquired in the context of a therapist-client relationship. The general rationale on which such laws are predicated holds that certain individual rights must give way to the greater good of society or to the rights of a more vulnerable individual (e.g., in child abuse or child custody cases; see Kalichman, 1993). Statutes in some states address the waiver of privilege in cases of clients exposed to criminal activity either as the perpetrator, victim, or third party. One might presume that violation of a confidence by obeying one's legal duty to report such matters (in the states where such duties exists) could certainly hinder the therapist-client relationship, yet the data on this point seem mixed (DeKraai & Sales, 1982; Kalichman, Brosig, & Kalichman, 1994; Nowell & Sprull, 1993; Woods & McNamara, 1980). Some commentators have argued that the therapeutic relationship can survive a mandated breach in confidentiality so long as a measure of trust is maintained (Brosig & Kalichman, 1992; Watson & Levine, 1989). At times, state laws can be confusing and complicated.
Case 10:
Euthan Asia was full of remorse when he came to his initial appointment with Oliver Oops, Ph.D. After asking and receiving assurance that their conversations would be confidential, Mr. Asia disclosed that, two months earlier, he had murdered his wife of 50 years out of compassion for her discomfort. Mrs. Asia was 73 years old and suffered from advanced Alzheimer's disease. Mr. Asia could not stand to see the woman he loved in such a state, so he gave his wife sleeping pills and staged a bathtub drowning that resulted in a ruling of accidental death by the medical examiner.
In some jurisdictions, Dr. Oops would be obligated to respect Mr. Asia's confidentiality because those states do not mandate reporting of past felonies that do not involve child abuse. If the conversation took place in Massachusetts, however, Dr. Oops would be required by law to report Mr. Asia twice. First, Dr. Oops would have to notify the Department of Elder Affairs that Mr. Asia had caused the death of a person he was caring for over the age of 60. Next, he would be obligated to report to another state agency that Mr. Asia had caused the death of a handicapped person. Although every American state and Canadian province has mandatory "child abuse" reporting laws (Kalichman, 1993), not all have statutes mandating the reporting of abuse of so-called "dependent persons." As a result, mental health professionals have an affirmative ethical obligation to know all applicable exceptions for the jurisdiction in which they practice, and to provide full information on these limits to their clients at the outset of the professional relationship (APA 10: 4.02b).
Therapists worry about the potential obligation to disclose a client's stated intent to commit a crime at some future date. Shah (1969) argued that, in most cases, such disclosures of intent essentially constitute help-seeking behavior rather than an actual intent to commit a crime. Siegel (1979) also argued that interventions short of violating a confidence will invariably prove possible and more desirable, although he acknowledged that one must obey any applicable laws. No jurisdictions currently mandate mental health professionals to disclose such information. The prime exception to treating statements of intent to commit crimes confidentially involves the special context when particular clients pose a danger to themselves or others; discussed in the following material as the "duty to warn or protect."
Malpractice and Waivers
Although not all states have specifically enacted laws making malpractice actions an exception to privilege, one must allow defendant therapists to defend themselves by revealing otherwise confidential material about their work together. Likewise, no licensing board or professional association ethics committee could investigate a claim against a mental health practitioner unless the complainant waives any duty of confidentiality that the therapist might owe. In such instances, the waiver by the client of the therapist's duty of confidentiality or any legal privilege constitutes a prerequisite for full discussion of the case. While some might fear that the threat to reveal an embarrassing confidence would deter clients from reporting or seeking redress from offending therapists, procedural steps can allay this concern. Ethics committees, for example, generally conduct all proceedings in confidential sessions and may offer assurances of privacy to complainants. In malpractice cases, judges can order spectators excluded from the courtroom and place records related to sensitive testimony under seal from the public's view.
In some circumstances, a therapist may want to advise an otherwise willing client not to waive privilege or confidentiality.
Case 11:
Barbara Bash, age 23, suffered a concussion in an automobile accident, with resulting memory loss and a variety of neurological sequelae. Her condition improved gradually, although she developed symptoms of depression and anxiety as she worried about whether she would fully recover. She sought a consultation from Martha Muzzle, Ph.D., to assess her cognitive and emotional state, subsequently entering psychotherapy with Dr. Muzzle to deal with her emotional symptoms. During the course of her treatment Ms. Bash informed Dr. Muzzle that she had previously sought psychotherapy at age 18 to assist her in overcoming anxiety and depression linked to a variety of family problems. Some 10 months after the accident, Bash had continued treatment and made much progress. A lawsuit remains pending against the other driver in the accident, and Bash's attorney wonders whether to call Dr. Muzzle as an expert witness at the trial to document the emotional pain Ms. Bash suffered, thus securing a better financial settlement.
If consulted, the therapist should remind Ms. Bash's attorney and inform Ms. Bash that, if called to testify on Ms. Bash's behalf, she would have to waive her privilege rights. Under cross examination, the therapist might have to respond to questions about preexisting emotional problems, prior treatment, and a variety of other personal matters that Ms. Bash might prefer not to have brought out in court. In this case, the legal strategy involved documenting Bash's damages, with the intent of forcing an out-of-court settlement, but the client ought to know the risks of disclosure should her attorney call the therapist as a witness.
Employers, schools, clinics, or other agencies may also apply pressure for clients to sign waivers of privilege or confidentiality. Often the client may actually not wish to sign the form, but may feel obligated to comply with the wishes of an authority figure or feel fearful that requested help would otherwise be turned down (Rosen, 1977). If a mental health professional has doubts about the wisdom or validity of a client's waiver in such circumstances, the best course of action would call for consulting with the client about any reservations prior to supplying the requested information.
The Duty to Warn or Protect Third Parties from Harm
No complete discussion of confidentiality in the mental health arena can take place without reference to the Tarasoff case (Tarasoff v. Board of Regents of the University of California, 1976) and a family of so-called progeny cases that have followed in its wake (Quattrocchi & Schopp, 2005; VandeCreek & Knapp, 2001; Werth, Welfel, & Benjamin, 2009). Detailed historical analyses of the legal case have evolved in the literature (Stone, 1976; Everstine, Everstine, Heymann, et al, 1980; and Quattrocchi & Schopp, 2005), but a brief summary follows for those unfamiliar with the facts.
Case 12:
In the fall of 1969, Prosenjit Poddar, a citizen of India and naval architecture student at the University of California's Berkeley campus, shot and stabbed to death Tatiana Tarasoff, a young woman who had spurned his affections. Poddar had sought psychotherapy from Dr. Moore, psychologist at the university's student health facility, and Dr. Moore had concluded that Poddar posed a significant danger. This conclusion stemmed from an assessment of Poddar's pathological attachment to Tarasoff and evidence that he intended to purchase a gun. After consultation with appropriate colleagues at the student health facility, Dr. Moore notified police both orally and in writing that he feared Poddar posed a danger to Tarasoff. He requested that the police take Poddar to a facility for hospitalization and an evaluation under California's civil commitment statutes. The police allegedly interrogated Poddar and found him rational. They concluded that he did not really pose a danger and secured a promise that he would stay away from Ms. Tarasoff. After his release by the police, Poddar understandably never returned for further psychotherapy, and two months later stabbed Tarasoff to death.
Subsequently, Ms. Tarasoff's parents sued the regents of the University of California, the student health center staff members involved, and the police. Both trial and appeals courts initially dismissed the complaint, holding that, despite the tragedy, no legal basis for the claim existed under California law. The Tarasoff family appealed to the Supreme Court of California, asserting that the defendants had a duty to warn Ms. Tarasoff or her family of the danger, and that they should have persisted to ultimately ensure his confinement. In a 1974 ruling, the court held that the therapists, indeed, had a duty to warn Ms. Tarasoff. When the defendants and several amici (i.e., organizations trying to advise the court by filing amicus curiae, or "friend of the court," briefs) petitioned for a rehearing, the court took the unusual step of granting one. In their second ruling (Tarasoff v. Board of Regents, 1976), the court released the police from liability without explanation and more broadly formulated the obligations of therapists, imposing a duty to use reasonable care to protect third parties against dangers posed by a patient:
We shall explain that defendant therapists cannot escape liability merely because Tatiana herself was not their patient. When a therapist determines, or pursuant to the standards of his profession should determine, that his patient presents a serious danger of violence to another, he incurs an obligation to use reasonable care to protect the intended victim against such danger. The discharge of this duty may require the therapist to take one or more of various steps, depending upon the nature of the case. Thus it may call for him to warn the intended victim or others likely to apprise the victim of the danger, to notify the police, or to take whatever other steps are reasonably necessary under the circumstances (Tarasoff v. Regents of University of California, 1976).
Although the influence of the decision outside of California was not immediately clear, the issue of whether mental health professionals must be police or protectors or otherwise have a "duty to protect" rapidly became a national concern (see, e.g., Bersoff, 1976; Leonard, 1977; Paul, 1977; VandeCreek and Knapp 2001; Quattrocchi and Schopp 2005). A former president of the APA (Siegel, 1979) even argued that if Poddar's psychologist had accepted the absolute and inviolate confidentiality position, Poddar could have remained in psychotherapy and never harmed Tatiana Tarasoff. Siegel believed the therapist "betrayed" his client asserting that, if the psychologist had not considered Poddar "dangerous," no liability for "failure to warn" would have developed. It has even been argued that more lives could be lost due to overzealous reporting mandates (Shapiro & Smith, 2011). Clients who need therapy the most may not return to therapy, possibly placing themselves or others at increased risk. Some in need of therapy may avoid seeking it if they suspect their confidences could be disclosed. Those who do enter therapy may not express what they actually feel or intend to do (Ritter & Tanner, 2013). Such claims may have some validity; however, many therapists would support the need to protect the public welfare via direct action. From both legal and ethical perspectives, a key test of responsibility remains whether therapists knew or should have known (in a professional capacity) of the client's dangerousness. No single ethically correct answer will apply in all such cases, but the therapists must also consider their potential obligations.
Currently, most states expect therapists to take protective action when clients make specific threats as alluded to in the final opinion of the California Supreme Court:
We shall explain that defendant therapists cannot escape liability merely because Tatiana herself was not their patient. When a therapist determines, or pursuant to the standards of his profession should determine, that his patient presents a serious danger of violence to another, he incurs an obligation to use reasonable care to protect the intended victim against such danger. The discharge of this duty may require the therapist to take one or more of various steps, depending upon the nature of the case. Thus it may call for him to warn the intended victim or others likely to apprise the victim of the danger, to notify the police, or to take whatever other steps are reasonably necessary under the circumstances. (Tarasoff v. Regents of University of California, 1976)
Perhaps the ultimate irony of the Tarasoff case in terms of outcome involves what happened to Mr. Poddar. His original conviction for second degree murder was reversed because the judge had failed to give adequate instructions to the jury concerning the defense of "diminished capacity" (People v. Poddar, 1974). He was convicted of voluntary manslaughter and confined to the Vacaville medical facility in California and has since won release from confinement and went back to India and claims to be happily married. (Stone, 1976).
A variety of decisions by courts outside California since Tarasoff have dealt with the duty of therapists to warn or protect potential victims of violence at the hands of their patients (Knapp & VandeCreek, 2000; Truscott, 1993; VandeCreek & Knapp, 1993, 2001; Weisner, 2006; Yufik, 2005). The cases are both fascinating and troubling from the ethical standpoint.
The most recent scholarly colloquy on the issue began with Bersoff calling for an end to state statutes enacted after the Tarasoff decision that require therapists to warn the intended victim, police, and/or others when a patient voices serious threats of violence. He argued that such laws may actually interfere with therapy by deterring patients from revealing violent intent, because the therapists will have informed new patients of this exception to confidentiality. As an alternative to laws mandating that therapists disclose such threats, Bersoff suggests "discretion to disclose" (p. 461). He discusses this in terms of sensible options short of violating confidentiality (e.g., seeking consultation, recommending hospitalization, and extending therapy sessions to manage imminent threats). If these fail, the therapist could then opt to disclose (p. 466). Huey (2015) calls this a "Catch-22" situation, noting that any rules undercutting sacrosanct confidentiality create a situation in which the ethical necessity of informed consent has an unintended consequence in that truly open psychotherapy is preceded by informed consent that acts to preclude it. Huey notes that properly informed patients will choose not to reveal imminent suicidal intent, if they are unwilling to be hospitalized. Pedophiles who might consider seeking treatment would have to forgo it or face mandatory reporting, felony conviction, and lifetime public registration.
We have not disguised or synthesized examples in the next several cases, but rather draw from public legal records that form a portion of the continually growing case law on the duty to warn. The cases themselves do not necessarily bespeak ethical misconduct. Rather, we cite them here to guide readers regarding legal cases that interface with the general principle of confidentiality.
Case 13:
Dr. Shaw, a dentist, participated in a therapy group with Mr. and Mrs. Moe Billian. Shaw became romantically involved with Mrs. Billian, only to be discovered one morning at 2:00 A.M. in bed with her by Mr. Billian, who had broken into Shaw's apartment. On finding his wife in bed nude with Dr. Shaw, Mr. Billian shot at Shaw five times, but did not kill him.
Dr. Shaw sued the psychiatric team in charge of the group therapy program because of the team's alleged negligence in not warning him that Mr. Billian's "unstable and violent condition" presented a "foreseeable and immediate danger" to him (Shaw v. Glickman, 1980). In this case, the Maryland courts held that, although the therapists knew Mr. Billian carried a handgun, they could not necessarily have inferred that Billian might have had a propensity to invoke the "old Solon law" (i.e., a law stating that shooting the wife's lover could constitute justifiable homicide) and may not even have known that Billian harbored any animosity toward Dr. Shaw. The court also noted, however, that, even if the team had this information, they would have violated Maryland law had they disclosed it.
Case 14:
Lee Morgenstein, age 15, had received psychotherapy from a New Jersey psychiatrist, Dr. Milano, for 2 years. Morgenstein used illicit drugs and discussed fantasies of using a knife to threaten people. He also told Dr. Milano of sexual experiences and an emotional involvement with Kimberly McIntosch, a neighbor 5 years his senior. Morgenstein frequently expressed anxiety and jealousy about Ms. McIntosch's dating other men, and he reported to Dr. Milano that he once fired a BB gun at a car in which she was riding. One day, Morgenstein stole a prescription blank from Dr. Milano, forged his signature, and attempted to purchase 30 Seconal tablets. The pharmacist became suspicious and called Dr. Milano, who advised the pharmacist to send the boy home. Morgenstein obtained a gun after leaving the pharmacy and later that day shot Kimberly McIntosch to death.
Dr. Milano had reportedly tried to reach his client by phone to talk about the stolen prescription blank, but intervened too late to prevent the shooting. Ms. McIntosch's father, a physician who had read about the Tarasoff decision, and his wife ultimately filed a civil damage suit against Dr. Milano for the wrongful death of their daughter, asserting that Milano should have warned Kimberly McIntosch or taken reasonable steps to protect her.
Dr. Milano sought to dismiss the suit claiming that the Tarasoff principle should not apply in New Jersey for four reasons. First, to do so would impose an unworkable duty because the prediction of dangerousness is unreliable. Second, violating the client's confidentiality would have interfered with effective treatment. Third, assertion of the Tarasoff principle could deter therapists from treating potentially violent patients. Finally, Milano claimed that all of this might lead to an increase in unnecessary commitments to institutions. The court rejected each of these arguments and denied the motion to dismiss the case (McIntosch v. Milano, 1979). The court noted the duty to warn as a valid concept under New Jersey law, and despite the fact that therapists cannot be 100% accurate in predictions, they have the ability to weigh the relationships of the parties. The court drew an analogy comparing the situation with warning communities and individuals about carriers of a contagious disease, and stated that confidentiality must yield to the greater welfare of the community, especially in the case of imminent danger. Ultimately, a jury did not find Milano liable for damages, but the Tarasoff principle had clearly moved East.
Case 15:
James, a juvenile offender, was incarcerated for 18 months at a county facility. During the course of his confinement, James threatened that he would probably "off some kid" (i.e., murder a child) in the neighborhood if released, although he did not mention any particular individual. James obtained parole and did indeed kill a child shortly thereafter.
In the litigation that resulted from this case (Thompson v. County of Alameda, 1980), the chief concern focused on whether the county had a duty to warn the local police, neighborhood parents, or James' mother of his threats. While recognizing the duty of the county to protect its citizens, the California Supreme Court declined to extend the Tarasoff doctrine it had created a few years earlier to this case, noting that doing so would prove impractical and negate rehabilitative efforts by giving out general public warnings of nonspecific threats for each person paroled. The court also deemed warning the custodial parent futile because one would not expect her to provide constant supervision (Tarasoff duty…, 1980).
After many years of state court decisions clarifying the Tarasoff doctrines, a 1991 Florida decision (Boynton v. Burglass, 1991) complicated matters still further.
Case 16:
The Florida state appeals court declined to adopt a duty to warn and held that a psychiatrist who knew or should have known that a patient presented a threat of violence did not have a duty to warn the intended victim. The case was brought against Dr. Burglass, a psychiatrist who had treated Lawrence Blaylock. Mr. Blaylock shot and killed Wayne Boynton, and Boynton's parents alleged that Burglass should have known about the danger to their son and should have warned him. The trial court dismissed the case for failure to state a cause of action. The appeals court declined to follow the Tarasoff case, ruling that such a duty seemed, "neither reasonable nor workable and is potentially fatal to effective patient-therapist relationships." The court cited the inexact nature of psychiatry and considered it virtually impossible to foresee a patient's dangerousness. The court also noted a common law rule that one person has no duty to control the conduct of another. Although a "special circumstance" may create such an obligation in some cases, this did not seem true in Blaylock's case because the treatment occurred as a voluntary outpatient.
The bottom line for psychotherapists is this: consult a lawyer familiar with the standards that apply in your particular jurisdiction. Such consultation proved very helpful to the two practitioners who treated Billy Gene Viviano:
Case 17:
In March 1985, a jury awarded Billy Gene Viviano $1 million for injuries he had received at work. Much to Mr. Viviano's dismay, Judge Veronica Wicker overturned the verdict and ordered a new trial. During the next several months, Mr. Viviano became depressed and sought treatment from psychiatrist Dudley Stewart and psychologist Charles Moan. During the course of his treatment, Mr. Viviano voiced threats toward Judge Wicker and other people connected with his lawsuit. Drs. Stewart and Moan informed the judge of these threats, and Mr. Viviano was arrested, pleaded guilty to contempt of court, and agreed to a voluntary psychiatric hospitalization. Viviano and his family sued the two doctors for negligence, malpractice, and invasion of privacy, but the jury found that the doctors had acted appropriately. Viviano appealed, but lost again (In re Viviano, 1994).
In ruling for Drs. Stewart and Moan, the Louisiana Court of Appeals cited the Tarasoff case, noted that Dr. Stewart repeatedly consulted an attorney prior to disclosing the threats, and cited testimony by both doctors that Mr. Viviano's threats had become increasingly intense to the point at which both believed he would attempt to carry them out. After weighing these factors, the appellate court reasoned the therapists had followed applicable standard of care in warning third parties.
What should therapists do if a threat comes to their attention from a family member, rather than the patient? More recently, the California courts have again broken new ground in the confidentiality and duty to protect arena, again emphasizing the need to obtain current legal advice when challenging cases come along, such as the matter of Ewing v. Goldstein (2004).
Case 18:
David Goldstein, Ph.D., a licensed marriage and family therapist, had treated Geno Colello, a former Los Angeles police officer, for three years. Treatment focused on work-related injuries and the breakup of Colello's seventeen-year relationship with a woman named Diana Williams, who had begun dating Keith Ewing. Dr. Goldstein talked to Mr. Colello by telephone on June 21, 2001. Colello allegedly told Goldstein that he did not feel blatantly suicidal, but did admit to thinking about it. Dr. Goldstein recommended hospitalization, and asked permission to talk with the patient's father, Victor Colello. Victor reportedly told Goldstein that his son was very depressed and seemed to have lost his desire to live. The father went on to report that Geno could not cope with seeing Diana date another man, and that Geno had considered harming the young man. Geno later signed himself in as a voluntary patient at Northridge Hospital Medical Center on the evening of June 21, 2001. The next morning Dr. Goldstein received a call from Victor Colello, advising that the hospital would soon release Geno. Dr. Goldstein telephoned the admitting psychiatrist and urged him to keep Geno under observation for the weekend. The psychiatrist declined and discharged Geno, who had no further contact with Dr. Goldstein. On June 23, 2001, Geno Colello shot Keith Ewing to death and then killed himself with the same handgun.
Ewing's parents filed a wrongful death suit naming Goldstein as one of the defendants (Ewing v. Goldstein, 2004), alleging he had a duty to warn their son of the risk posed by Geno Colello. A judge granted summary dismissal of the case against Goldstein, who asserted that his patient never actually disclosed a threat directly to him. The California Court of Appeals, however, reinstated the case noting, "When the communication of a serious threat of physical violence is received by the therapist from the patient's immediate family, and is shared for the purpose of facilitating and furthering the patient's treatment, the fact that the family member is not technically a 'patient,' is not crucial…" The court noted that psychotherapy does not occur in a vacuum and that therapists must learn contextual aspects of a patient's history and personal relationships to be successful. The court opined that communications from patients' family members in this context constitutes a "patient communication." Requiring mental health professionals to heed warnings from third parties (e.g., a parent or spouse), puts them in the difficult position of assessing the credibility of individuals they do not know (Eisner, 2006; Greer, 2005).
Case 19:
Jan DeMeerleer, a 39 year old mechanical engineer, murdered his ex-fiance Rebecca Schiering and her nine year old son Philip, attempted to murder Schiering's older son, Brian Winkler, and later committed suicide. Psychiatrist Howard Ashby, M.D. had treated DeMeerleer in outpatient psychotherapy for nine years prior to the attack. According to Dr. Ashby's records, DeMeerleer had expressed suicidal and homicidal ideation, but never named Schiering or her children as potential victims. The Washington State Supreme Court held that Dr. Ashby and DeMeerleer shared a special relationship and that relationship required Dr. Ashby to act with reasonable care, consistent with the standards of the mental health profession, to protect foreseeable victims of DeMeerleer.
This decision appears to significantly broaden the duty that mental health professionals in the State of Washington have to protect and warn potential victims of violence by a patient under their care. This expansive extension of the Tarasoff doctrine to any possible victim, even one not specifically identified by the patient, does not currently extend beyond the state of Washington. The decision creates a new category of "medical negligence," in that state.
With respect to actual risk to public safety, little hard data exist to demonstrate that warnings effectively prevent harm, although reasonable indirect evidence does suggest that treatment can prevent violence. Obviously, ethical principles preclude direct empirical validation of management strategies that may or may not prevent people at a high risk from doing harm to others (Otto 2000; Litwack 2001; Douglas and Kropp 2002). In addition, violent behavior does not constitute an illness or mental disorder per se. We cannot treat the violent behavior, but we can treat a number of clinical variables associated with elevated risks of violence, including depression, substance abuse, and unmoderated anger (Otto 2000; Douglas and Kropp 2002).
State laws vary as to how or whether a duty of care to third parties pertains (Benjamin, Kent, & Sirikantraporn, 2009). Many psychotherapists remain unaware of the laws in their jurisdictions. They may misinterpret a duty to warn possible victims as the only recourse (Pabian, Welfel, & Beebe, 2009). Alternative options that may be protective include increasing the frequency of communications and sessions, minimizing environmental enablers or other elements that may encourage violent behavior, medication alterations, voluntary hospitalization, commitment, involving other support systems or family members, "do-no-harm" contracts, and consultation with colleagues (Shapiro & Smith, 2011).
HIV and AIDS
Therapists should remain current regarding medical data, treatments, transmission risks, interventions, and state laws regarding professional interactions with HIV patients. Thanks to advances in medical care, HIV infection has become a chronic life-threatening condition, as opposed to the more rapidly fatal illness at the outset of the AIDS epidemic. Still, it remains a very hazardous medical condition and many state laws enacted to protect the confidentiality of HIV-infected people and the safety of their sexual partners remain in force. Therapists should speak openly and directly with clients about dangers of high-risk behaviors. Individuals who are putting others at risk typically have emotional conflicts about this behavior and may ultimately feel grateful for a therapist's attention to the difficult issue (Stein, Freedberg et al. 1998; Anderson and Barret 2001; VandeCreek and Knapp 2001). If the client continues to resist informing partners or using safe practices, clinical judgment becomes a key issue in assessing the duty to protect (Alghazo, Upton, & Cioe, 2011; Hook & Cleveland, 1999; Palma & Iannelli, 2002). After exhausting other options, the therapist may have to breach confidentiality to warn identified partners; however, one should first notify the client, explain the decision, and seek permission. The client may agree to go along with the notification. Once again, such case patterns constitute an occasion to consult colleagues and attorneys and to make certain that prejudices do not drive the decision.
Psychotherapists who work with clients infected with the human immunodeficiency virus (HIV) or who have developed acquired immunodeficiency syndrome (AIDS) must consider additional issues with respect to confidentiality and reporting obligations (Parry & Mauthner, 2004; VandeCreek and Knapp 2001). McGuire, Nieri, Abbott, Sheridan, and Fisher (1995) studied the relationship between therapist's beliefs and ethical decision-making when working with HIV positive clients who refuse to warn sexual partners or use safe sex practices. The study focused on psychologists licensed in Florida because of a state law mandating HIV-AIDS education. Although homophobia rated low among psychologists sampled, increases in homophobia linked significantly to the likelihood of breaching confidentiality in AIDS-related cases. This finding suggests that some degree of prejudice may drive behavior in these circumstances.
Imminent Danger and Confidentiality
At one time, the APA's "Ethical Principles of Psychologists" (APA, 1981) authorized the disclosure of confidential material without the client's consent only "in those unusual circumstances in which not to do so would result in clear danger to the person or others." As a reflection of the legal developments reported here, the current APA "Code of Conduct" notes: "Psychologists disclose confidential information without the consent of the individual only as mandated by law, or where permitted by law for a valid purpose such as to (1) provide needed professional services; (2) obtain appropriate professional consultations; (3) protect the client/patient, psychologist, or others from harm; or (4) obtain payment for services from a client/patient, in which instance disclosure is limited to the minimum that is necessary to achieve the purpose" (APA 10: 4.05b). Consider these case examples:
Case 20:
Bernard Bizzie, LMHC, was about to leave for the weekend when he received an emergency call from a client, who claimed to have taken a number of pills in an attempt to kill herself. Bizzie told her to contact her physician and to come in to see him at 9:00 A.M. on Monday morning. He made no other attempt to intervene, reasoning that contacting others on her behalf would breach confidentiality. The client died later that evening without making any other calls for assistance.
Dr. Bizzie clearly behaved in an unethical and negligent manner by not attending more directly to his client's needs. Even those rare mental health professionals who once asserted that one should never disclose confidential information without the consent of the client in the early post-Tarasoff era (e.g., Dubey, 1974; Siegel, 1979) or those who still advocate "absolute" confidentiality (Karon & Widen, 1998) would not likely counsel inaction in the face of such a risk. There are many steps Bizzie could have taken short of violating the client's confidentiality. Most obviously, he should have attempted (at the very least) to learn her location and assure himself that help would reach her if he could not. Although suicidal threats or gestures may prove manipulative rather than representing a genuine risk at times, only a foolish and insensitive colleague would ignore them or attempt to pass them off glibly to another.
Case 21:
Mitchell Morose, age 21, received therapy from Ned Novice, a psychology intern at a university counseling center. Morose had felt increasingly depressed and anxious about academic failure and dependency issues with respect to his family. During one session, Morose told Novice that he had contemplated suicide, had formulated a plan to carry it out, and was working on a note that he would leave "to teach my parents a lesson." Novice attempted to convince Morose to enter a psychiatric hospital for treatment in view of these feelings, but Morose accused Novice of "acting like my parents" and left the office. Novice immediately called George Graybeard, Psy.D., his supervisor, for advice. Graybeard agreed with Novice about the risk of suicide, and, acting under a provision of their state's commitment law, they contacted Morose's parents, who could legally seek an emergency involuntary hospitalization as his next of kin. Novice told the parents only that he had treated their son who experienced suicidal ideation, and that he had refused hospitalization. The parents then assisted in having their son committed for treatment. Following discharge, Morose filed an ethical complaint against Novice and Graybeard for violating his confidentiality, especially by communicating with his parents.
Mr. Novice certainly had reason for concern and discussed the matter with his supervisor. (As an aside, we must assume that, early in their work together, Novice had explained his "intern" status to Morose, including the fact that he would routinely discuss the case with his supervisor.) Novice had attempted to ensure the safety of his client through voluntary hospitalization, but the client declined. Because the state laws, well known to Dr. Graybeard, provided a mechanism that called for the involvement of next of kin, the decision to contact the parents was not inappropriate, despite going against the client's wishes. Morose had provided ample reason for Novice to consider him at risk, and the responsible parties disclosed only those matters deemed absolutely necessary to ensure his safety (i.e., that he seemed at risk for suicide and refused hospitalization). The therapist did not give the parents details or other confidential material. In the end, Morose's confidence was indeed violated, and he felt angry. Under the circumstances, however, Novice and Graybeard behaved in an ethically appropriate fashion. Later in this course we address specific federal legislation intended to protect the privacy of health care records (i.e., HIPAA). However, even the most protective of these regulations permits limited breaches of confidentiality necessary to provide appropriate treatment.
The best approach to avoiding such problems in one's practice involves three separate issues. First, each practitioner should clearly advise every client at the start of their professional relationship of limits on confidentiality. Second, clinicians should think through and come to terms with the circumstances under which they will breach confidentiality or privilege. Consultation with an attorney about the law in the relevant practice jurisdiction will prove crucial because of diverse case law decisions and variable statutes. Finally, should an actual circumstance arise bearing on these issues, consultation with colleagues can help sort out alternatives that may not come to mind initially.
When, in the clinical judgment of the psychotherapist a client is in danger to himself or others, several options are available. Apparently many psychotherapists believe that their sole option is to warn an intended victim, if he or she is identifiable, or to otherwise break confidentiality by informing appropriate others. It is important to remember that the duty of care can come in many forms besides breaking confidentiality. Psychotherapists are not expected to predict exactly what will happen in the future, but they are required to carefully assess the risks and create a plan of treatment accordingly (Berman, 2006; Werth, Welfel, & Benjamin, 2009).
Finally, a decision that any individual intends to perpetrate a harmful act on others or on him or herself and to violate confidentiality by warning the victim or calling the authorities or appropriate others is a daunting prospect. Unfortunately, no tried and true formula to predict such untoward events with a high degree of accuracy exists. Risk factors have been identified to assess violence potential (Berman, 2006; Douglas, Ogloff, & Nicholls et al., 1999; Harris, Rice, & Camilleri, 2004; Scott & Resnick, 2006). Forecasting imminent violent behavior, however, depends largely on clinical judgment rather than manual-driven assessments (Shapiro, 2011). The best predictor remains past behavior (Shapiro & Smith, 2011). Protective features in the client's life should also weigh in, such as gainful employment and a stable marriage or other positive relationship (de Vries Robbé, de Vogel, Stam, et al., 2012).
Finally, a new dilemma. As a result of the horrific incident in Sandy Hook, Connecticut, New York hastily legislated the NY SAFE Act, requiring mental health professionals and other health care workers to report clients believed to be dangerous to themselves or others to officials who may then search and remove guns from their homes (Ritter & Tanner, 2013).
ACCESS TO RECORDS AND PERSONAL HEALTH INFORMATION (PHI)
Mental health practitioners keep records of their work and clients for a variety of reasons – legal obligation, reluctance to rely on memory, communication to other professionals, ready availability of important data, and documentation of services provided, to name a few. By definition, such records will often contain confidential material, and, as long as they exist, someone other than the therapist who collected the material may seek access to them. In addressing this issue, we must first consider the process of securing a client's informed consent for the release of information. We must then consider the claims and circumstances under which various parties might seek access, as well as the nature of the information being sought. Finally, we consider the use of client records for teaching or research purposes, including the use of recordings and photographic materials.
Congress enacted Public Law 104-191, better known as the Health Insurance Portability and Accountability Act or HIPAA, on August 21, 1996. Regulations and implementation took several years, and many related resources now abound (see: U.S. Department of Health and Human Services, 2003; 2006). Congress intended that HIPAA would do exactly what its name implies: protect the portability of health insurance and the privacy of personal health information (PHI). Among its provisions, HIPAA specifies that health care providers must inform their patients about the confidentiality of records, lays out standards for authorizing the release of PHI, and addresses the security in electronic transmission of PHI. The privacy protections afforded by HIPAA preempt state laws, unless those laws provide a higher standard of protection. We will address many aspects of HIPAA in the pages that follow.
Regulations aimed at improving health care including the Federal HITECH (Health Information Technology for Economic and Clinical Health) Act and Affordable Care Act will increasingly require the use of electronic health record-keeping in ways that will require special consideration. At present, the most affected practitioners are those working in hospitals and large health care systems. However, it is important for all practitioners to understand basic concepts and look after clients' best interests accordingly.
Understand the difference between electronic medical records (EMR) and electronic health records (HER). An EMR typically refers to any health records on identifiable individuals stored in digital form. These might exist as text documents or images stored in any digital format or location (e.g., desktop computers, laptops, tablets, thumb drives or backed up to a remote server, sometimes referred to as "cloud" storage). The key principle of concern here is security of the records and contents. Various levels of protection (e.g., passwords and encryption) are expected, with the levels of security scaled upward based on the size and complexity of the organization.
The modern HER will require interoperability, meaning that a patient's complete health record will be available in real time to all health care providers granted access. In some circumstances, that can mean that a primary care physician or nurse practitioner who is seeing a patient with a bout of the flu may also have access to notes written by that patient's psychotherapist at an affiliated facility miles away. Clinicians working in institutions or health systems with interoperable HERs should play a role in deciding on policies about appropriate role segregation. Only clinicians with a legitimate need to know should have access to mental health records, and patients have a right to know the applicable policies in advance of entering treatment.
Consent for the Release of Records
The existence of interoperable or transferable records can be of great assistance or substantial detriment to clients, depending on the contents and uses. Often, the process of getting consent occurs so hurriedly or perfunctorily that clients may not fully understand what they have authorized or why. Some may even sign release forms against their wishes because of a variety of subtle and obvious pressures or because no alternatives seem available (Damschroder, Pritts, Neblo, et al., 2007; McSherry, 2004; Rosen, 1977). The practitioner has an important role in educating and helping to safeguard the client's interests in such cases (Clemens, 2006; Rogers, 2006).
A consent or release-of-information form should contain several key elements, including (1) the name of the person to whom the records are to be released, (2) which specific records are to be sent (including a distinction between general medical records and psychotherapy notes), (3) the purpose or intended use, (4) the date the form was signed, (5) an expiration date, (6) any limitations on the data to be provided, (7) the name and signature of the person authorizing the release, and (8) that person's relationship to the client (if not the client) and the signature of a witness (if signed outside the practitioner's presence). If you receive a release or request for information that does not seem valid or might present some hazard to the client, it would be wise to contact the client directly to seek confirmation prior to releasing any material.
Whenever signing a consent form, the client should receive a copy, and the clinician should make the original a part of that client's files. The therapist should also keep a record of which materials were sent, to whom, and when. Therapy records should bear a confidential designation, and the recipient should remain aware of any limitations on their use. One should also exercise caution to see that only material appropriate to the need is sent. Consider this example:
Case 22:
Kurt Files, Psy.D., had evaluated 8-year-old Sheldon Sputter at his family's request because of school problems. The evaluation included taking a developmental and family history, meeting with both parents, reviewing school progress reports, and administering cognitive and personality tests. Dr. Files discovered that Sheldon had a mild perceptual learning disability and was also reacting to a variety of family stresses, including his mother's reaction to paternal infidelity, his father's recent discovery that Sheldon was not his child, and a host of other family secrets that had recently come to light. He recommended appropriate psychotherapeutic intervention, and the family followed through. Several weeks later, Dr. Files received a signed release form from the school Sheldon attended asking for "any" information he had on Sheldon's problem. Files responded with a letter describing the cognitive test results and referring in general terms to "emotional stresses in the family that are being attended to."
In this situation, the psychologist recognized the school's valid need to know information that could help better serve Sheldon. At the same time, Dr. Files recognized that some of the material bore no relevance to the school's role, and he made the appropriate discrimination despite the vague and broad request for any information. The current APA code, for example, notes that when discussing a case, one can "…disclose information only to the extent necessary to achieve the purposes of the consultation" (APA 10: 4.06(2)).
Client Access to Records
Clients' access to their mental health records has historically been a matter of some controversy, although the issues have varied somewhat as a function of the precise type of records involved. The three general types of records include: (1) institutional (e.g., hospital, clinic, school, court, or government agency), (2) private practitioners' office records, and (3) so-called working notes. In the past, patients did not always have access to their own medical and mental health records. This trend began to erode in the 1980s and died with HIPAA, which specifies patients' access rights to their health and mental health files. Therapists should generally assume that any patient may someday ask to see his or her records and that all who persist will ultimately be able to obtain copies whether the therapist agrees this is a good idea or not. Some portions of therapist's office records might include material that ought to be safeguarded from disclosure to nonprofessionals (e.g., copies of intelligence test protocols or other such test materials that could compromise test security by their release). Generally, however, the category of records we have termed "working notes" causes the most concern.
In consideration of HIPAA, therapists will now want to recognize four special categories of records: 1) medical records, 2) psychotherapy notes, 3) forensic reports, and 4) working notes. HIPAA and patients' rights of access apply chiefly to records considered to be health information.
Medical or clinical records include the general office or institutional records that chronicle appointments kept, diagnoses, prescriptions, insurance claims, procedures, and the like as part of the PHI (personal health information). In this context the term "medical record," includes the records kept by non-physician mental health clinicians, as well as the records of psychiatrists. This term can also apply to paper records or digital records maintained at a single site or in interoperable form.
Psychotherapy notes have special status under HIPAA. Such notes include observations that therapists wish to record for their own use, and could include details of the content and process of psychotherapy beyond the more standard documentation typically included in general medical records. Under the provisions of HIPAA, disclosure of psychotherapy notes requires special designation in the release or waiver form signed by the patient. In other words, a signed waiver authorizing the release of medical records does not include psychotherapy notes, unless specific mention is made of that category. The decision about making and preserving psychotherapy notes are at the option on the clinician, but they must be segregated in a separate file from the main clinical record in whatever format they exist.
Forensic reports involve data collected and reports written specifically for use in legal contexts and may not fall under the penumbra of HIPAA. Such reports for the courts might, for example, include competency to stand trial, criminal responsibility, or child custody evaluations. Although such reports may occasionally include health information, their purpose and utility focus on the legal system and may be governed by court rules or orders. Forensic practice standards typically assure that the client has reasonably informed consent regarding the purpose of the interviews and the parties who will have access to the data, even though unenthusiastically given (Connell and Koocher 2003). At times, a patient may also agree in advance that they will not have access to some data or reports prepared by mental health professionals, as in the case of some pre-employment or independent medical evaluation examinations.
Working notes refer to those impressions, hypotheses, and half-formed ideas that a mental health professional or trainee may jot down to assist in formulating more comprehensive reports or recommendations later. Often, these notes are reworked into psychotherapy notes or a report, used for discussion with a supervisor, or simply discarded as new data come to light. Because of the speculative and impressionistic nature of such working notes, they may not have meaning or utility to anyone except the person who made them. Such notes are definitely not the sort of material a therapist would want released to anyone. They should be temporary documents, subsequently reworked into more formal office or institutional records, and subsequently destroyed. Mental health professionals should remain aware that at least some risk always exists that any written materials might someday come to light in public through a court proceeding. Therapists who keep working notes should regularly review and consolidate them into less sensitive summaries for all cases. This avoids the danger of an accusation that the therapist has selectively edited a case file in anticipation of a client request for records or a court action. The reasons for this suggestion will become clear in the following pages.
One fact should remain uppermost in the reader's mind as the discussion of record access continues. The records do not belong to the client, but rather are the property of the institution or private practitioner as their creator and keeper, depending on the setting involved. While clients may have a right to copies of, or access to, their records, and certainly an interest in them, the records themselves do not belong to the client unless expressly transferred to the client for some reason. Clients may from time to time assert the claim to a record "because I paid for that report" or "those therapy sessions." In fact, the client paid for services rendered, or perhaps a copy of a report, but not for the actual original records (e.g., case notes, process notes, or test protocols) unless specified as part of the agreement with the therapist or agency for some unusual reason.
Opponents of free client access to records generally make two types of claims. First, they assert that the therapist must feel free to speculate and jot down any thought or comments. Some of these will invariably seem erroneous or misleading if taken out of context. Second, opponents of open access claim that harm may follow the release of technical professional information with clients who are not equipped to understand or deal with it (Strassburger, 1975). Consider the case of Godkin v. Miller (1975):
Case 23:
On several occasions between 1962 and 1970, Janet Godkin had undergone treatment as a voluntary mental patient at three different New York hospitals. She and her husband decided to write a book about her experiences and sought access to her records, wishing to verify some of the material. The requests were refused, which led to a lawsuit against the New York State Commissioner of Mental Hygiene and the directors of the hospitals involved ("Doctor and the Law," 1975).
The judge in the case agreed with the refusal to provide the records when the hospitals expressed a preference for releasing the records to another professional, rather than the client herself. The rationales presented by hospital staff included: the records would be unintelligible to the layperson; certain information might prove detrimental to the individual's current well-being; and the records could contain references to other individuals who might be harmed by disclosure (Roth, Wolford, & Meisel, 1980). The judge also noted that records are the property of the practitioner or the hospital and that a client consults the practitioner for services, not for records ("Doctor and the Law," 1975). Some years later, the New York Supreme Court granted Matthew C. Fox, a former patient of the Binghamton Psychiatric Center, full access to his medical records despite the center's contention that such access would be anti-therapeutic (Fox v. Namani, 1994). Fox was suing the center for malpractice and acting as his own attorney. HIPAA has now trumped all such reasoning in favor of granting clients access.
We generally favor full client access to their mental health records. However, there may be circumstances, such as notes on group therapy sessions or records collected on behalf of a corporate client regarding many individuals, when full access to records could violate the privacy and confidentiality of another party. Rare instances also exist when access to some recorded data might cause substantial and concrete detriment to an individual client.
Case 24:
During an acute psychotic episode, Tyrone Propper penned a series of bizarre, sexually explicit notes to his psychotherapist. Because the notes seemed clinically relevant at the time, they remained in the therapist's private case files. Mr. Propper later recovered fully and returned to his job as a bank officer. He visited the therapist for a follow-up session and asked to review the case file to help gain perspective on what had happened to him. Propper had few memories from the psychotic period.
Case 25:
Barry Icarus had been raised by his aunt and uncle because his parents died before his second birthday. He had suffered a reactive depression since his uncle's death from a heart attack on his 16th birthday. Six months of psychotherapy had helped him to deal with the loss successfully and go on to college away from home. A few years later, Barry's aunt died, and he returned to have a few sessions with the same psychotherapist who had helped him earlier. Barry expressed some interest in reviewing his records with respect to his prior treatment. The psychotherapist's file still contained a developmental history given by the aunt years earlier. This included the fact, still unknown to Barry, that his mother had been shot to death by his father, who later committed suicide.
In both of these cases, it might be appropriate for the practitioners in question to omit material (e.g., the sexually explicit notes and the circumstances of the parents' deaths) from the files prior to reviewing them with the clients. The notes could prove embarrassing to the recovered client. Revelation of them would serve no useful purpose and might possibly increase emotional distress. The information on Barry's parents seems irrelevant to his reason for seeking treatment now, even though it constituted part of a thorough developmental history needed when he was 16. Providing him with this material now could add stress without an immediate constructive purpose.
When situations of this sort occur, it should be possible to supply the client with the sought-after information minus those sections that might violate the rights of others. In the case of the detrimental material, the residual content could be shared directly with the client. A decision about the actual degree of detriment, however, ought to first be made by a professional in a position to offer an unbiased consultation on the matter. However, if either client asked for their full medical record, HIPAA grants them access to the contents.
Therapists who make records available to clients should give serious consideration to the manner in which this occurs. Do you insist on being present? Do you charge for your time, or consider this part of your services? Do you make your policy on such matters clear to clients before therapy (or other service delivery) starts? We believe that it is desirable to let clients know such policies early in the course of the professional relationship. We also believe that it is important for the therapist to be present during the record review to offer elaboration, explain technical terms, or deal with the client's feelings related to the material. If this would require a significant amount of time, charging a fee for this service may be warranted; however, this should be tempered with an understanding of the client's financial situation, balanced with his or her needs and rights of access in a particular situation. The client who has terminated treatment for lack of funds, for example, should not be barred from a file review for inability to pay, and HIPAA requires release of records even when a client does not wish to review them with the therapist.
Access by Family Members
Occasionally, a concerned family member will seek access to a client's records. When the client is a child or deemed legally incompetent, parents or guardians have full legal entitlement to record access. Therapists should recognize the unique problems that arise when working with minors or families and should remain sensitive to each individual's right to privacy and confidentiality in such circumstances. From the outset of any such relationship, all parties should receive information about the specific nature of the confidential relationship. A discussion about what sorts of information might be shared and with whom should be raised early. This is not a difficult or burdensome process when done as a routine practice.
Case 26:
Cynthia Childs, Psy.D., has treated 7-year-old Max Bashem for about a month. Max was referred for treatment because of secondary enuresis and acting-out behaviors of recent onset. The birth of a new sibling in the Bashem family several weeks ago seems to have contributed to the problem. Near the end of the fifth therapy session, Max expresses some anger about his new sibling and tells Dr. Childs, "Tonight after my parents go to bed, I'm gonna kill that little weasel!"
Case 27:
Donna Rhea, age 14, also sees Dr. Childs regularly in psychotherapy. Donna feels alienated from her parents and is sexually active. Her parents discovered that she has contracted genital herpes, and, in a moment of emotional distress after they learned this fact, she accused them of not being "as understanding as Dr. Childs." The parents felt furious that the psychotherapist knew their daughter was sexually active and did not tell them. They demanded a full briefing from Dr. Childs, or else they would pull their daughter out of treatment. They also threatened to file an ethics complaint.
These two cases illustrate some difficult, but not insoluble, problems (Koocher & Keith-Spiegel, 1990; Taylor & Adelman, 1989). In the case of Max, Dr. Childs must consider several factors, not the least of which concerns the seriousness of Max's threat. Does Max have a history of violence toward others? Has he exaggerated his anger in the context of therapy for emphasis? Certainly, Dr. Childs will want to explore this issue with Max before ending the session, but suppose she does feel that he poses some risk to the sibling? Suppose that Max cannot commit himself to leave the baby unharmed in the coming week between sessions. Childs could express her concern and discuss with Max the need to help keep him from doing something he might later regret. She could talk with him about alternatives and explore a variety of them, one involving a family conference in which Max could be encouraged to share some of his angry feelings more directly. If all else fails and Childs believes that she cannot otherwise stop Max from hurting his sibling, she must discuss the matter with his parents as a duty-to-protect issue. Not to do so would constitute malpractice. While such a circumstance would be rare indeed, Childs should certainly discuss the need to violate the confidence for his ultimate benefit.
Donna's situation poses a more complex problem. Dr. Childs almost certainly would have lost the trust of her client had she chosen to violate Donna's confidence. At the same time, providing a value-free climate in psychotherapy may have the net result of unintentionally condoning Donna's sexual behavior (Baumrind, 1990). The parents may feel jealous of the trust and respect their daughter seems to have in the psychotherapist, while feeling angry and disappointed at her sexual activity and resulting infection. A conference per se does not seem inappropriate, but would probably best succeed as a family meeting with Donna present. Dr. Childs could attempt to retain a supportive and therapeutic stance in such a session without necessarily breaking confidence. The sort of information the parents expect seems unclear. A preventive step might have included a pretreatment family conference with a discussion of the psychotherapy relationship and any attendant limitations. An outright refusal to meet with the parents in this circumstance would not serve the interests of any of the parties. Many state laws do permit minors to obtain treatment for sexually transmitted diseases or birth control information without parental consent and in confidence. Dr. Childs' behavior does not seem unethical per se.
Access to records sought by family members of an adult should generally be denied, unless there exists some special reason that justifies considering the request. Special reasons might include the imminent danger test discussed earlier, or the legally adjudicated incapacity of the client.
Case 28:
Marla Noma lived with cancer for many years, and during that period she occasionally consulted Michael Tact, M.S.W., about her fears and concerns related to the illness. During a surgical procedure, Marla became comatose and remained alive on life support equipment, although with little chance of any recovery. Members of her family planned to seek court authorization to discontinue mechanical life-support equipment and wondered whether any of Tact's records or conversations with Marla might provide some guidance to them and the court about her wishes.
In such a case, when the client cannot speak for herself, it probably would not be unethical for Tact to respond openly to a duly authorized request for information from the next of kin. The surviving line of consent generally recognized by courts is as follows. First in line to grant consent is the spouse (even if living apart from the client, as long as they are not divorced). Second are the children of legal age, with each such child having equal voice. Next are parents or grandparents, followed by siblings, each having equal voice. If none of the above survive, courts will occasionally designate the next nearest relative or closest friend.
Court Access to Records
The concept of privileged communication discussed earlier in this course has a very narrow focus on protecting certain material from disclosure in court. Despite privilege, however, some courts or litigants may still seek access to privileged information as well as other confidential material. While mental health professionals must certainly respect appropriate requests emanating from the courts, they must also reasonably safeguard material from inappropriate release. Some practitioners assume that their working notes fall outside the realm of materials subject to disclosure in court, feel stunned when a subpoena duces tecum arrives, demanding that they appear in court bringing with them "any and all files, documents, reports, papers, photographs, recordings, and notes in whatever form they exist" regarding the case in question.
In such instances, understanding the differences between a subpoena and a court order becomes critically important. A subpoena simply compels a response and, in some jurisdictions, an attorney can obtain one simply by asking the clerk of the court. The response need not provide what the subpoena document demands. If the papers seek documents or testimony protected by privilege, the therapist should seek clarification from their client's attorney or the court. A court order, on the other hand, typically flows from a hearing before a judge and compels a disclosure unless appealed to a higher court. In the end, the court must decide what qualifies as protected or not.
If a subpoena or request for documents arrives from a client's own attorney and without a release form, check with your client, not the attorney, before releasing the documents. If a signed release form does accompany the request, but the therapist believes that release of the material might cause clinical or legal damage, discuss it with the client. Practitioners concerned about releasing actual raw notes can offer to prepare a prompt report or summary. In a technical sense, a request from a client's attorney has the same force as a request from the client; however, it is not unreasonable for the therapist to personally confirm the client's wishes, especially if the records include sensitive content.
On occasion, a subpoena generated by an attorney opposing the therapist's client or representing another person may arrive at a therapist's office. Under such circumstances, it is reasonable to contact the attorney who issued the subpoena and say: "I cannot disclose whether or not the person noted in the subpoena is now or ever was my client. If the person were my client, I could not provide any information without a signed release from that individual or a valid court order." Next, contact your client, explain the situation, and ask for permission to talk with his or her attorney. Ask the patient's attorney to work out privilege issues with the opposing attorney or move to quash the subpoena. These steps will ensure that the person to whom you owe prime obligations (i.e., your client) remains protected to the full extent allowed by law. When in doubt, consult your own attorney for advice, but never simply ignore a subpoena.
Case 29:
Clinical psychologist Polly Rost learned the hard way about the importance of consulting an attorney in response to a subpoena for records. The Pennsylvania Board of Psychology issued a formal reprimand to Rost for failing to seek legal advice in dealing with a subpoena. The parents of a child client sued the York Jewish Community Center because their child suffered headaches after a fall there. Rost released the records of the child to the parents' attorney, and later to the Community Center's attorney, in response to an attorney-issued subpoena. After receiving a complaint from the parents, the Pennsylvania licensing board ruled that Rost should have sought the advice of counsel before releasing records in response to the second subpoena, and the courts upheld that ruling (Rost v. Pennsylvania Board of Psychology, 1995).
When appropriate to release original materials from your case files, offer an authenticated notarized copy rather than the originals. If the court specifies that you must provide the originals, be certain to retain a notarized copy of the records for yourself or have your attorney do so. Important documents can easily become lost or misplaced as they travel through the legal system.
Case 30:
Arnold and Anita Abuser were being treated in marital therapy by Samuel Silent, Ed.D., when their child died of apparently inflicted injuries. Prosecutors subpoenaed Dr. Silent to appear before a grand jury investigating the child's death and questioned him about the content of his sessions with the Abusers as the district attorney sought incriminating evidence about the couple. Dr. Silent asked for a judicial determination on privilege. He noted that, as a legally mandated reporter of suspected child abuse he would have made an official report had he suspected anything. A judge ruled that the prosecutors should have adequate latitude to investigate, and because the case involved alleged child abuse he would order the therapist to testify or face jail for contempt of court. Mr. and Mrs. Abuser did not wish Dr. Silent to discuss any material from their sessions before the grand jury.
Dr. Silent felt caught in a particularly difficult situation. If he bowed to the court order and testified, he would violate his clients' confidentiality. If the Abusers are guilty and the therapist's silence precludes prosecution, he may protect his clients to the detriment of the victim and society as a whole. In addition, if the Abusers had given Dr. Silent reason to suspect abuse, and he did not report it, he could face prosecution.
If Dr. Silent does not comply with a judge's order to testify, he faces fines or jail for contempt of court and may thereby stand accused of breaking the law. This situation is a prime example of a point at which ethical behavior may at times seem at variance with legal requirements. If Dr. Silent believes he should not testify, the best advice would involve resisting disclosure of confidential material using all legitimate legal avenues. If such avenues become exhausted or fail, Dr. Silent's colleagues would not likely sustain an ethical infraction against him for ultimately disclosing the confidential material. When conflicts between its ethics code and the law occur, the APA advises psychologists to attempt a responsible resolution, but notes that, "If psychologists' ethical responsibilities conflict with law, regulations or other governing legal authority, psychologists make known their commitment to this Ethics Code and take steps to resolve the conflict in a responsible manner in keeping with basic principles of human rights" (APA 2010: Introduction).
If Silent knew of abuse and chose not to disclose details from the outset under mandated reporting laws, he would also have behaved ethically. If Silent had known of abuse and had failed to report it, he could possibly decline to testify, citing his Fifth Amendment right under the U.S. Constitution against self-incrimination, although such a claim affords no protection from the ethical impropriety of not reporting the abuse.
Case 31:
John Spleen, M.A., filed for divorce from his wife Sandra under less than amicable circumstances. John practices privately as a licensed marriage and family therapist, and Sandra believed that he lied about his income in the process of reaching a negotiated financial settlement. She sought a court order for her spouse to disclose the names, addresses, and billing records of his clients so that she and her attorney could verify the actual annual income from his practice.
Dr. Spleen stands in a difficult position, even assuming that he has nothing to hide in his personal financial affairs. Disclosing the names and addresses of his clients could certainly prove embarrassing and stressful to the clients. Perhaps he could arrange for an independent audit of his records in confidence by a bonded professional, without the need to contact clients individually or otherwise disclose their names. In any event, the Spleens' dispute involves a civil matter, and courts will be less likely to pursue disclosure for civil matters than for a criminal case. In a similar case, a California appellate court protected the confidentiality of the therapist's records from the spouse, noting that public disclosure of client status itself might prove harmful to a client.
Case 32:
Cindy Weisbeck was treated by James Hess, Ph.D., from November 1986 until June 1987 at South Dakota's Mountain Plains Counseling Center. In September 1987, he hired her as a part-time secretary at the center, of which he was the sole owner. Some 20 months after he stopped counseling Ms. Weisbeck, Dr. Hess allegedly initiated a sexual relationship with her. Cindy's husband, James Weisbeck, sued. In seeking to show that Hess had a history of taking advantage of vulnerable female clients, Mr. Weisbeck sought access to a list of Hess's patients going back seven years and the right to depose Hess's personal therapist, a social worker named Tom Terry (Weisbeck v. Hess, 1994).
In the case involving Dr. Hess, the South Dakota Supreme Court denied the request for access to client records and the right to depose Hess's therapist, although the court did not cite privacy of the clients as the primary rationale. Rather, the court noted that the APA ethics code in force at that time did not establish Hess's behavior as a "harmful act."
Case 33:
Dianea Kohl practiced as a licensed MFT without legal problems until she defied court orders to release records. She refused to provide treatment notes to the court appointed law guardian in a custody dispute, stating in part: "There are only two exceptions to confidentiality – only if I have knowledge of child abuse, or if someone is actively suicidal or homicidal can I breech confidentiality…I refused to give up my notes. My ethics say I am not to do that," she said. "I take lots of fragmented notes. They would not be helpful to the lawyer." She provided a summary of her notes, but the law guardian felt a responsibility to review all of the clinical data and the judge agreed. Kohl was arrested, and fined $1,109 on the contempt charge, paying $500 in bail to avoid jail time. She ultimately provided the records (Murray, 2013).
Ms. Kohl's personal interpretation of the AAMFT code of ethics and her own views on appropriate release of records simply do not comport with legal and ethical policies. All professional ethics codes caution regarding the importance of considering legal standards. Although one always has a right of appeal, no professional association would encourage a practitioner to defy a court order that had not been stayed by an appellate court. By placing her personal perspective above the court order, Kohl employed a self-centered rationalization without foundation. Indeed, she decided that her views on what constituted the best interests of her child-client trumped the legal system's views on the matter.
Computer Records and Cyber-confidentiality
The tremendous increase during the decade in the use of computers to store, retrieve, and transmit text and other data (including patient records) raises many new types of confidentiality concerns. Vast amounts of information can now be stored in small electronic, magnetic, or optical packages that can often be easily transported, misused, stolen, or misplaced. Use of the Internet for communications provides great convenience, as well as considerable unresolved confusion and controversy related to the rights and obligations of users. (See for example, Hsiung 2002; Barnett 2003; Fisher, 2013; Fisher and Fried 2003; Kanani 2003; Rosenoer, 1995; U.S. Department of Health and Human Services, 2006). Mental health professionals making use of new technology must remain thoughtful and cautious about the hazards to confidentiality that may result.
Case 34:
Lydia Laptop, Psy.D., industriously caught up on her record-keeping input on her portable computer as she flew home from a professional meeting. She had nearly finished the treatment summary on a new client when a familiar message came over the public address system: "In preparation for landing, please return your seatbacks to the full upright position, turn off any electrical equipment, and stow any items you removed for use during the flight." Dr. Laptop saved the file to her hard disk, carefully backed it up on a removable flash memory chip, and placed the stick in the seat back pocket as she packed up her computer. The aircraft experienced a bit of turbulence as she zipped up the travel bag and it slipped under the seat. She lost her train of thought for a moment. Dr. Laptop walked off the plane 10 minutes later, leaving the memory chip full of confidential client information in the seat back pocket. As soon as she got home, she realized what had happened and called the airline. Airline personnel never recovered the chip.
Case 35:
Hugh-Jim Bissel, M.S.W., received a faxed HIPAA-compliant release of information form from a therapist in another city. One of Bissel's former clients had relocated and sought treatment in his new locale. The new therapist in turn sought information on the previous therapy. Bissel noted an email address listed on the new therapist's letterhead and went on line to transmit the requested files. Unfortunately, Bissel became distracted by a phone call as he attempted this task, and he lapsed into an oft-repeated pattern of keystrokes, accidentally posting the confidential material to 3,500 subscribers on the International Poodle Fanciers list server.
With a bit of luck, Dr. Laptop's client's privacy may have remained intact, if the memory chip ended up in the trash as the airline cleaning crew went through the cabin. Dr. Bissel and his client did not fare as well. Only our imaginations limit the extent of these and other horror stories on "virtual" privacy violations. Any practitioner planning to make use of new technology should carefully consider confidentiality issues in the implementation process. If Dr. Laptop had used commonly available encryption technology for her confidential files, the loss of the chip could mean only lost work because any curious finder of her diskette would not have had easy access to its contents. Before transmitting any confidential material by email, FAX, or other electronic means, Dr. Bissel should have ascertained the security and accuracy of the intended recipient address. Technology will continue to evolve, but the ethical principles remain constant: clinicians are ultimately responsible for safeguarding the privacy of material entrusted to them in confidence. If you do not feel confident that a particular new technology will adequately protect client privacy, stick with safer modes of communication to protect the client's welfare.
Third-Party Access: Insurers and Managed Care
Many complex ethical issues come up when dealing with so-called third party payers from a business and financial perspective, but this course focuses on situations wherein clients may authorize release of information to third parties without fully understanding the implications. When clients decide to submit a claim for mental health benefits to an insurance company (or authorize a clinician to do so on their behalf), they may not realize that, in so doing, the provider of services will share certain information (e.g., diagnosis, type of service offered, dates services took place, duration of treatment, etc.). In some circumstances, insurers or companies designated to manage mental health benefits may have authorization to seek detailed information from case files, including a client's current symptom status, details of a treatment plan, or other sensitive material. HIPAA legislation addresses many of these concerns, but once information leaves a practitioner's office it lies beyond his or her control, and insurance companies may not exercise the same caution and responsibility as the individual practitioner. Some insurance companies, for example, participate in rating bureaus or similar reporting services that may become accessible to other companies at some future date. One public account described the case of a business executive denied an individual disability insurance policy because he had sought psychotherapy for family and work-related stresses. Disability underwriters described this denial as a nearly universal practice, and some insurers may use a history of therapy as an exclusionary criterion for individual health or life insurance policies (Bass, 1995).
Despite HIPAA-mandated notices and restrictions (U.S. Department of Health and Human Services, 2006) clients do not always read or understand the forms put in front of them to sign. This yields an interesting problem when it comes to informing clients about the implications of their using insurance coverage to pay for therapy and counseling services.
Case 36:
In addition to the standard HIPAA notice, Victor Vigilant, Ph.D., routinely informs his clients about the issue of disclosure to insurance companies in the following manner. He tells clients who have coverage, "If you choose to use your coverage, I shall have to file a form with the company telling them when our appointments were and what services I performed (i.e., psychotherapy, consultation, or evaluation). I will also have to formulate a diagnosis and advise the company of that. The company claims to keep this information confidential, although I have no control over the information once it leaves this office. If you have questions about this, you may wish to check with the company providing the coverage. You may certainly choose to pay for my services out of pocket and avoid the use of insurance altogether, if you wish.''
Dr. Vigilant seems a bit sarcastic and ominous, but most clients have little choice. Refusing to authorize release of information will result in the insurer refusing to pay the claim. Some clients may not care about the issue. A parent whose child is being seen for an assessment of perceptually based learning disabilities, for example, may feel unconcerned. On the other hand, a client holding a sensitive public office might very well wish to avoid informing any third party that they sought mental health services. In some cases, the matter becomes further complicated by the fact that some employers use self-insurance programs that occasionally send claims forms or data back through company headquarters in a manner that might become accessible to management. This may not constitute a significant threat in a post-HIPAA era, but for certain clients and some diagnoses, it might prove best to avoid any type of disclosure without first checking on the channels through which the information will flow.
Case 37:
In the spring of 2007, Blue Cross and Blue Shield of Massachusetts (BCBSMA) announced plans to introduce an outcomes measurement program using the BHL TOP (Behavioral Health Laboratories Treatment Outcomes Package) for voluntary use with all of their subscribers seeking mental health services (Behavioral Health Laboratories has now become Outcomereferrals.com, the company and instrument can be found at outcomereferrals.com and onlinelibrary.wiley.com). Clients were to be asked by their therapists to voluntarily complete the form at the start of treatment and periodically thereafter. The forms would then be transmitted electronically to BHL for scoring and data storage, with feedback reports to the therapist and to BCBSMA. Promises of data security were made, and therapists were informed that they would receive higher reimbursement rates if significant numbers of their clients completed the voluntary forms. Questions on the forms asked, among other things, sexual orientation, family income, religion, and detailed usage patterns for alcohol, cocaine, crack, PCP, heroin, and other illegal substances. Other questions asked about arrest and incarceration histories.
Several professional organizations raised significant ethical questions. Therapists would find themselves in the uncomfortable position of asking clients to voluntarily compromise their privacy by completing the forms, while facing a financial incentive to secure the data. Clients' data would ultimately be stored in electronic databases with no clear parameters on its future use for their benefit or detriment. Despite claims of data storage security, major breaches by private institutions and Federal agencies in recent years also raise legitimate concerns. (See for example: privacyrights.org, and www.epic.org/privacy.) Given the sensitive and personal nature of the data collection plan, including requests to delineate illegal behaviors, the BCBSMA plan seemed to pose serious potential risks to clients. The forms would become a part of therapists' records, leaving the content open to discovery under some legal proceedings. BCBSMA did not plan to provide any warnings or cautions about such hazards to their subscribers. Not surprisingly, in the face of public pressure and potential legislative action, BCMSMA made significant modifications in the procedure to avoid any appearance of financial pressures for therapists to have clients complete the forms. Questions about client privacy or future use of the data remain in the hands of the insurance company.
Peer review groups, such as professional association ethics committees, constitute a different type of third party with which the matter of disclosing confidential material occasionally becomes an issue. Members of professional associations must respond to inquiries from such duly constituted bodies, although they must also observe the basic principle of confidentiality. When asked by an ethics committee to respond, the therapist should first determine whether the complaining party has signed an appropriate waiver of duty of confidentiality due them. No ethics committee can press an inquiry about a client unless it first obtains a signed release from the client regarding the therapist's obligation of confidentiality. The same holds true of complaints to licensing boards or other regulatory bodies. Therapists cannot defend their cases unless they have the freedom to discuss the content of the relationship in question openly.
Case 38:
Roger Control filed an ethics complaint against a psychotherapist who allegedly, "made my problems worse instead of better." Mr. Control complained about one session in particular that "caused me strong mental anguish and insomnia for several weeks." Mr. Control asserted that the dozen prior sessions with the therapist were irrelevant and would only agree to allow the therapist to talk about the one "traumatic session" he had cited.
The ethics committee, noting that this limitation would not permit a sufficient response by the therapist to their inquiry, declined to investigate the case without a broader authorization.
TAKING ADVANTAGE OF CONFIDENTIAL INFORMATION
Occasionally, mental health professionals have an opportunity to gain personally as a result of information received in confidence. One such case involved Manhattan psychiatrist Robert Willis:
Case 39:
Robert Willis, MD, treated Mrs. Joan Weill, wife of the board chair of Primerica Corporation. In the course of treatment, Willis learned of business events in the life of his client and her spouse that seemed likely to affect the value of Primerica stock. The information Mrs. Weill communicated during treatment was not public knowledge. Dr. Willis made strategic investment decisions based on the information and earned more than $27,000 as a result. In a widely reported turn of events, Dr. Willis was caught, prosecuted, and fined by the Securities and Exchange Commission for "insider trading" (Rosenbaum, 1994).
It is impossible to know how often psychotherapists may benefit in some way from information they receive in the course of work with clients. The use of such information does not intrinsically constitute ethical misconduct. For example, a client who reports distress about an unreliable automobile mechanic may lead the therapist to avoid using that business. However, that same sort of information is generally available to many people by word of mouth and would not lead to personal gain at the expense of others, as in the case of Dr. Willis.
RECORD CONTENT RETENTION AND DISPOSITION
Content of Records
What should clinicians include in clinical case records? The APA first adopted basic advisory guidelines for psychologists in 1993 and updated them in 2007 (APA, 1993, 2007). They cover a wide range of topics related to keeping and managing records, but we believe that some detailed recommendations regarding the prototype mental health record content will prove useful to readers. A high-quality clinical record provides the best way to document rendering of appropriate care. A jury or ethics committee might regard poor quality notes or inadequate history taking as sloppy practice in a malpractice suit or complaint hearing, respectively. In a legal sense, if it was not written down, it did not happen. A suggested model for a clinical case record appears in Text Box 1.
Text Box 1
Suggested Contents of Mental Health Records
CONTENT ISSUES
• Identifying information: Name, record or file number (if any), address, telephone number, sex, birth date, marital status, next of kin (or parent/guardian), school or employment status, billing and financial information.

• First contact: Date of initial client contact and referral source.

• Documentation that client has received notice related to privacy and other practice information (e.g., access to emergency coverage, fees, limits of confidentiality) required under Federal (i.e., HIPAA) and state laws.

• Relevant history and risk factors including a detailed social, medical, educational, and vocational history. This need not necessarily be done in the very first session and need not be exhaustive. The more serious the problem, the more history you should take. Get enough information to formulate a diagnosis and an initial treatment plan.

• Medical or health status: Collect information on the client's medical status (i.e., when was his or her last physical exam?; does the client have a personal physician?; are there any pending medical problems or conditions?). This is especially important if the client has physical complaints or psychological problems that might be attributable to organic pathology.

• Medication profile: Collect information on all medications or drugs used, past and present, including licit (e.g., prescribed medications, alcohol, tobacco, and over-the- counter drugs) and illicit substances. Also note any consideration, recommendation, or referral for medication made by you or others over the course of your work with the client.

• Why is the client in your office?: Include a full description of the nature of the client's condition, including the reason(s) for referral and presenting symptoms or problem. Be sure to ask clients what brought them for help at this point in time, and record the reasons.

• Current status: Include a comprehensive functional assessment (including a mental status examination), and note any changes or alterations that occur over the course of treatment.

• Diagnostic impression: Include a clinical impression and diagnostic formulation using the most current American Psychiatric Associations Diagnostic and Statistical Manual (DSM) or the International Classification of Diseases (ICD) model. Do not under-diagnose to protect the patient. If you believe it is absolutely necessary to use a "non-stigmatizing" diagnosis as opposed to some other label, use the R/O (rule-out) model by listing diagnoses with the notation "R/O," indicating that you will rule each "in" or "out" based on data that emerge over the subsequent sessions. The diagnosis must also be consistent with the case history and facts (e.g., do not use "adjustment reaction" to describe a paranoid hallucinating client with a history of prior psychiatric hospital admissions).

• Treatment plan: Develop a treatment plan with long- and short-term goals and a proposed schedule of therapeutic activities. This should be updated every four to six months and modified as needed.

• Progress notes: Note progress toward achievement of therapeutic goals. Use clear, precise, observable facts (e.g., I observed patient-reported . . . ; patient agreed that...). Avoid theoretical speculation, reports of unconscious content, attempts at humor, or sarcasm. If you must keep theoretical or speculative notes, use a separate "working notes" format, but recognize that these records may be subject to subpoena in legal proceedings.

• Service documentation: Include documentation of each visit, noting the client's response to treatment. In hospitals or large agencies, each entry should be dated and signed or initialed by the therapist, with the name printed or typed in legible form. It is not necessary to sign each entry in one's private (i.e., non-institutional) case files.

• Document follow-up: Include documentation of follow-up for referrals or missed appointments, especially with clients who may be dangerous or seriously ill. Retain copies of all reminders, notices, or correspondence sent to clients, and note substantive telephone conversations in the record.

• Obtain consent: Include copies of consent forms for any information released to other parties.

• Termination: Include a discharge or termination summary note for all clients. In cases of planned termination, be certain that case notes prior to the end of care reflect planning and progress toward this end.
NON-CONTENT ISSUES
• Control of records: Mental health professionals should maintain (in their own practice) or support (in institutional practice) a system that protects the confidentiality of records. Clear procedures should be in place to preserve client confidentiality and to release records only with proper consent. The media used (e.g., paper, magnetic) is not especially important, so long as utility, confidentiality, and durability are assured. When inter-operable electronic health records are in use, consider appropriate role segregation to control access to sensitive content.

• In multiple-client therapies (e.g., family or group treatment), records should be kept in a manner that allows for the preservation of each individual's confidentiality should the records of one party be released.

• Mental health professionals are responsible for construction and control of their records and those of people they supervise.

• Retention of records: therapists must be aware of and observe all federal and state laws that govern record retention. In the absence of clear regulatory guidance under law, the American Psychological Association (1993) recommends maintaining complete records for three years after the last client contact and summaries for an additional 12 years.

• If the client is a child, some records should be maintained until at least 3-5 years beyond the date at which the child attains the age of majority.

• All records, active or inactive, should be stored in a safe manner, with limited access appropriate to the practice or institution.

• Outdated records: Outdated, obsolete, or invalid data should be managed in a way that assures no adverse effects will result from its release. Records may be culled regularly, so long as this is consistent with legal obligations. Records to be disposed of should be handled in a confidential and appropriate manner.

• Death or incapacity: Therapists need to make arrangements for proper management or disposal of clinical records in the event of their death or incapacity.
Record Retention
How long should one keep records? The difficulty in answering this question arises because the number and type of records kept by mental health professionals, clinics, and other agencies vary widely in both content and purpose. The answer to this question will vary as a function of the type of record, nature of the client's need for documentation of prior services, probability of need for future services, validity of the data in the records, and the applicable state or federal regulations. In any given legal jurisdiction, for example, the responsibilities of a mental health professional might vary widely, depending on whether the records in question qualify as business files, medical records, school records, or research data. The two key factors a therapist should consider in making a decision about retention or disposition of records include applicable legal obligations and client welfare.
Consulting with an attorney familiar with the statutes that apply to one's practice will usually provide the best guidance. Dramatic differences exist from location to location. Considering only hospital records, Massachusetts permits the destruction of records 30 years following the discharge or final treatment of the patient. California requires retention of such hospital records for seven years post-discharge or until the patient reaches age 21, but never less than seven years. New York's statute is similar to the California requirement except that the time frame is six years. In Texas, the law specifies 10 years for general retention, whereas Pennsylvania specifies keeping the record itself for 15 years and keeping a permanent care file on each patient. Some states, such as South Dakota, specify keeping hospital records permanently.
Laws dealing with individual practitioners, as opposed to institutions or agencies, often give less specific retention times or require shorter retention spans for client files. Many state laws do not specifically mention mental health professionals in laws governing case records, although licensing boards may have applicable regulations. In general, the best recommendation we can offer has two prongs. First, check your legal obligations based on state law with respect to any statute of limitations on business and medical records. Second, we note that the APA (2007) recommended a minimum of seven years' retention for the full record and keeping some summary of the record much longer. APA also recommended that when the client is a minor the time frame should be extended until at least three years past the age of majority. We recommend the APA standard as a minimum, even if your state permits shorter periods. The retention clock should start ticking at the end of the final professional service to the client.
The U.S. Internal Revenue Service (IRS) imposes yet another type of obligation on virtually all professionals with its seven-year record-keeping requirement. Although these obligations refer to business and financial records, one would obviously need some ability to access client names and payments made. A client facing an IRS audit might have to seek confirmation of payments made to the therapist, or the practitioner might have to document certain financial data regarding his or her practice to the IRS.
Client welfare concerns come up with respect to the matter of record retention in two ways. First, you must consider the client's need and the benefit to the client of such records. Second, you must consider the risks and hazards of such records to clients, especially when they contain obsolete or potentially harmful data and may pass beyond the originating mental health professional's control. Records benefit the client in a variety of ways, including their potential to assist in the continuity of care across providers and over time. Even long after a client has improved and left the therapist's care, a need might arise to document that a period of treatment or disability had occurred. Records do, after all, have the potential to recall events better than, and even to outlive, the provider who prepared them. This last fact contributes to a potential hazard with respect to disposition of records, discussed below.
Potential problems with records, aside from the access issues mentioned in this course, often arise as the result of invalid or obsolete information. Determining a definition of "obsolete" can pose a problem, however. One must resist the temptation, inherent in the one's research training, to save any potentially analyzable data indefinitely. Attempt to balance this urge with an understanding of the reliability and validity of old data.
Case 40:
A state agency serving children maintained its clinical files, including psychological test data, indefinitely. A request for information, validly executed, was received from a government agency, requesting copies of reports for purposes of security clearance on Warren Peace, a now 40-year-old job applicant, who had been seen at the agency 30 years earlier. The request raises the question of whether the I.Q. and other tests or psychological information has current validity.
In the face of a valid waiver form, the agency must release the information on Mr. Peace requested under the circumstances cited above because the files exist and the former client has agreed. On the other hand, one should legitimately question the appropriateness of keeping full test data and detailed notes this long, thus rendering them available for such requests. The IQ data obtained at age 10 will have no bearing on Mr. Peace's current employability, and any treatment or personality test data from that era also retain little likely validity. If the agency had destroyed obsolete files or purged its files of data no longer of any clinical value, little danger would exist to the former client that such information could return from the past and prove embarrassing or harmful. Likewise, facts of interest to treatment team members may rate as mere gossip years later (e.g., "paternal aunt suffered from melancholia," "intense sibling rivalry is present," "parents have difficulty with sexual intimacy'').
Disposition
When disposing of records or obsolete contents culled from them, their confidential nature demands respect and precautions should be taken. With paper records, therapists can shred, incinerate, or take other destructive action themselves or contract for such services. Actual responsibility for the proper destruction rests with the practitioner or agency head in charge of the material.
Case 41:
Eurippides Upp, the administrator of a mental health agency, planned to dispose of many outdated clinical records. He ordered the files piled into plastic trash bags, tied up, and inserted in an outdoor dumpster to await trash pickup. Neighborhood dogs, in quest of food scraps, tore several bags open, and the wind blew out many reports and notes bearing client names and other identifying material. Many of the clients whose records flew around the streets still resided in the same community.
Case 42:
Giga Byte purchased a dozen upgraded desktop computers for the clinic she managed and donated the older office computers to a local community center. She took care to delete all of the word processing and billing files she could locate before handing over the old equipment.
In the first case above, Mr. Upp evidently took little care to see to the proper disposal of sensitive records. He should have had the material shredded or stored securely until pickup by a responsible disposal agent. Ms. Byte may or may not have done an adequate job of protecting records stored in her computer. Simply deleting files on a hard drive does not permanently remove the data. In some cases, even reformatting a drive may not prevent recovery of some data. We recommend obtaining consultation from experts before disposing of computer equipment used to store client data. A special set of recommendations regarding electronic records and confidentiality issues appears in Text Box 2.
• Use encryption software to protect data transmission, protect stored data with complex passwords (i.e., letters, numerals, symbols, and/or upper and lower case mixes), and Internet firewalls.

• Discuss and develop security measures with professional and support personnel when storing files via a common server or backing them up on an institutional system or hub.

• Participate in creating appropriate role-segregation policies for mental health records when working at agencies that employ interoperable electronic health records.

• Advise both trainees and supervisors on appropriate procedures to protect client confidentiality when using the Internet for supervisory purposes.

• Keep removable data storage media in secure locations or use complex passwords to encrypt them.

• If using audio or visual records of client interactions for teaching purposes, consider distorting the client's voice or masking faces.

• Destroy recordings when no longer needed as long as their destruction does not conflict with other ethical or legal obligations to maintain scientific or professional records.

• Do not share passwords with others and do change them often.

• Remain mindful of security hazards of wireless devices and alert clients when using such devices.

• Avoid use of confidential information in email or instant messaging unless you use encryption.

• Take extra measures to protect physical security of portable devices (e.g. laptop or smaller computers, personal digital assistants, and smart phones) used to work with client data, whether used in the office or at home.

• Use privacy screens to shield monitors or other types of screens from viewing by others.

• Update virus protection software and other security measures frequently for both personal and work-space computing devices on which PHI is kept.

• Remove all data when disposing or recycling old computers. This may require assistance from technical experts. Even after erasing files or reformatting disks, traces of data may remain.
The death of a mental health practitioner can also raise a complex set of problems with respect to individual client records. In some cases, a surviving spouse or executor has simply destroyed records. In other cases, they have retained records, but made no arrangements for the orderly processing and screening of requests to access information from them. Although we know of no complaints or litigation against the estates of dead mental health professionals for record-keeping infractions, failure to safeguard records following the death of a clinician could conceivably lead to filing suit against a therapist's estate. For this reason, as well as client welfare, we stress the importance of creating a will or other instructions addressing record disposition. One alternative could involve an arrangement with a professionally responsible colleague for the care and management of the records. Other alternatives would be to instruct one's spouse or executor on how to seek advice from others on record management, or to ask a professional association to assist in managing the files for a period of time after the death.
Text Box 3
Deidentifying Health Care Information
Properly sanitized health care information is not protected under HIPAA regulations (45 C.F.R. §164.514). The following identifiers should be removed or altered when preparing material for release or discussion in public statements, teaching, or research:
Geographic subdivisions smaller than a state (although the initial three digits of a zip code may be used)
Any dates (except years) directly related to an individual
Telephone, fax, Social Security, medical record, health plan, account, or medical device identification, or license numbers
E-mail addresses, web universal resource locators (URLs), IP addresses
Biometric identifiers, including finger- and voice prints
Full-face photographic or comparable images
Any other unique identifying number, characteristic, or code
Text Box 4
Avoiding Errors in Institutional Electronic Records
Take care to avoid entering or repeating incorrect information.
When records are being converted, uploaded, or used in a hybrid record system, check your work for conversion problems.
Guard against electronic routing failures.
Consider how you will access data if the system becomes unusable for a period of time.
Take great care when using prefilled forms or attempting to copy and paste text.
When adopting or entering a new system, check to ensure that the design aligns with the clinical needs of your clients.
Check appropriateness of access levels for the data you will enter.
Make sure that your clients understand the nature and security of the record-keeping system, including which other practitioners will have access to their mental health records.
References
Alghaz, R., Upton, T. D., & Cioe, N. (2011). Duty to warn versus duty to protect confidentiality: Ethical and legal considerations relative to individuals with AIDS/HIV. Journal of Applied Rehabilitation Counseling, 42, 43-49.
American Psychological Association. (1981). Ethical principles of psychologists. American Psychologist, 36, 633-638.
American Psychological Association. (2010). Ethical principles of psychologists and Code of Conduct.
American Psychological Association. (1993). Record keeping guidelines.
American Psychologist, 48
, 984-986.
American Psychological Association. (2007). Record keeping guidelines. Washington, DC: American Psychological Association.
Anderson, J. R. and R. L. Barret, Eds. (2001). Ethics in HIV-related psychotherapy: Clinical decision making in complex cases. Washington, D.C., American Psychological Association.
Apple, R. W., Jr. (1993). Note Left by White House Aide: Accusation, Anger and Despair. New York Times, Published: August 11, 1993, downloaded from: nytimes.com, March 15, 2007.
Associated Press (1995). Account of therapy for Nicole Simpson brings suspension. Published: November 24, 1995. Downloaded from: nytimes.com, March 15,2007.
Bass, A. (1995, April 13). Insurers spurn anyone in therapy. Boston Globe, pp. 25, 29.
Barefoot v. Estelle (1983). 463 U.S. 880 decided July 6, 1983.
Baumrind, D. (1990). Doing good well. In C. B. Fisher & W. W. Tryon (Eds.), Ethics in applied developmental psychology: Emerging issues in an emerging field . Norwood, NJ: Ablex.
Benjamin, G. A., Kent, L., & Sirikantraporn. S. (2009). A review of duty-to-protect statutes, cases, and procedures for positive practice. In Werth, J. L., Welfel, E. R., & Benjamin, G. A. H. (Eds.). (pp. 9-28). The duty to protect: Ethical, legal, and professional considerations for mental health professionals. Washington, DC: American Psychological Association.
Berman, A. L. (2006). Risk management with suicidal patients. Journal of Clinical Psychology, 62, 171-184.
Bersoff, D. N. (1976). Therapists as protectors and policemen: New roles as a result of Tarasoff. Professional Psychology, 7, 267-273.
Bersoff, D. N. (1995). Ethical conflicts in psychology. Washington, DC: American Psychological Association.
Bersoff, D. N. (2014). Protecting victims of violent patients while protecting confidentiality. American Psychologist, 69, 461-467. dx.doi.org/10.1037/a0037198
Boynton v. Burglass, 590 So. 2d 466 (Fla. D. Ct. A.P. 1991).
Brodsky, S. L. (1972). Shared results and open files with the client. Professional Psychology, 3, 362-364.
Brosig, C. L., & Kalichman, S. C. (1992). Child abuse reporting decisions: Effects of statutory wording of reporting requirements. Professional Psychology, 23, 486-492.
Burke, C. A. (1995). Until death do us part: An exploration into confidentiality following the death of a client. Professional Psychology, 26, 278-280.
Clemens, N. A. (2006). Putting your medical record on the line. Journal of Psychiatric Practice, 12, 250-252.
Chodoff, P. (1992). The Anne Sexton biography: The limits of confidentiality. Journal of the American Academy of Psychoanalysis, 20, 639-643.
Commonwealth v. Lamb, 311 N.E.2d 47, 365 Mass. 265 (1974)
Connell, M. and G. P. Koocher (2003). "Expert opinion: HIPPA and forensic practice." American Psychology Law Society News, 13, 16-19.
Damschroder, L. J., Pritts, J. L., Neblo, M. A., Kalarickal, R. J., Creswell, J. W., & Hayward, R. A. (2007). Patients, privacy and trust: Patients' willingness to allow researchers to access their medical records. Social Science & Medicine, 64, 223-235.
DeKraai, M. B., & Sales, B. D. (1982). Privileged communications of psychologists. Professional Psychology, 13, 372-388.
de Vries Robbé, M., de Vogel, V., Stam, J., & Van der Hoeven, K. (2012). Protective factors for violence risk: The value for clinical practice. Psychology, 3, 1259-1263.
Disclosure of confidential information gives rise to tort action against psychiatrist. (1982). Mental Disability Law Reporter, 6, 79.
Doctor and the law: On patient's right to read own medical records. (1975, February 10). Medical World News.
Douglas, K. S. and P. R. Kropp (2002). A prevention-based paradigm for violence risk assessment: Clinical and research applications. Criminal Justice and Behavior 29, 617-658.
Douglas, K. S., Ogloff, J. R. P., Nicholls, T. L., & Grant, I. (1999). Assessing risk for violence among psychiatric patients: The HCR-20 risk assessment scheme and the Psychopathy Checklist: Screening Version. Journal of Consulting and Clinical Psychology, 67, 917-930.
Dubey, J. (1974). Confidentiality as a requirement of the therapist: Technical necessities for absolute privilege in psychotherapy. American Journal of Psychiatry, 131, 1093-1096.
Eisner, D. A. (2006). From Tarasoff to Ewing: Expansion of the duty to warn. American Journal of Forensic Psychology, 24, 45-55.
Epstein, G. N., Steingarten, J., Weinstein, H. D., & Nashel, H. M. (1977). Panel report: Impact of law on the practice of psychotherapy. Journal of Psychiatry and Law, 5, 7-40.
Everstine, L., Everstine, D. S., Heymann, G. M., True, R. H., Frey, D. H., Johnson, H. G., & Seiden, R. H. (1980). Privacy and confidentiality in psychotherapy. American Psychologist, 35, 828-840.
Ewing v. Goldstein (2004) 120 Cal. App. 4th 807, 15 Cal. Rptr. 3rd 864, 867.
Fisher, C. B. & Fried, A. L. (2003). "Internet-mediated psychological services and the American Psychological Association Ethics Code." Psychotherapy: Theory, Research, Practice, Training. 40, 103-111.
Fisher, M.A. (2013). The Ethics of Conditional Confidentiality for Mental Health Professionals. New York: Oxford University Press.
Fox v. Namani, 622 N.Y.S.2d 842 (N.Y. Sup. Ct. 1994).
Godkin v. Miller, 379 F Supp. 859 (ED N.Y. 1974), aff'd, 514 F 2d 123 (2d Cir. 1975).
Goldstein, R. L. (1992). Psychiatric poetic license? Post-mortem disclosure of confidential information in the Anne Sexton case. Psychiatric Annals, 22, 341-348.
Greer, M. (February, 2005). Expansion of duty to warn in California. APA Monitor on Psychology, 36, 45.
Harris, G. T., Rice, M. E., & Camilleri, J. A. (2004). Applying a forensic actuarial assessment (the Violence Risk Appraisal Guide) to nonforensic patients. Journal of Interpersonal Violence, 19, 1063-1074.
Hook, M. K., & Cleveland, J. L. (1999). To tell or not to tell: Breaching confidentiality with clients with HIV and AIDS. Ethics & Behavior, 9, 365-381.
Hsiung, R. C. (2002). Suggested principles of professional ethics for E-therapy. e-Therapy: Case studies, guiding principles, and the clinical potential of the Internet. R. C. Hsiung. New York: W. W. Norton, 150-165.
Huey, S. R. (2015). Tarasoff's catch-22. American Psychologist, 70(3), 284-285. http://dx.doi.org/10.1037/a0039064
Hunt, D. M. (1999). O. J. Simpson: Facts & fictions. Cambridge, UK: Cambridge University Press
In re Viviano, 645 So. 2d 1301 (La. Ct. A.P. 1994).
Jaffe v. Redmond, 116 S.Ct. 95-266, 64L.W. 4490 (June 13, 1996).
Joseph, D. I. (1992). Discussion: Anne Sexton and the ethics of psychotherapy. Journal of the American Academy of Psychoanalysis, 20, 665-669.
Kalichman, S. C. (1993). Mandated reporting of suspected child abuse: Ethics, law, and policy. Washington, DC: American Psychological Association.
Kalichman, S. C., Brosig, C. L., & Kalichman, M. O. (1994). Mandatory child abuse reporting laws: Issues and implications for treating offenders. Journal of Offender Rehabilitation, 21, 27-43.
Kanani, K. R., Regehr, C. (2003). Clinical, ethical, and legal issues in e-therapy. Families in Society, 84, 155-162.
Karon, B. P. & Widen, A. J. (1998) Repressed memories: The real story. Professional Psychology, 29, 482-487.
Knapp, S., & VandeCreek, L. (1982). Tarasoff: Five years later. Professional Psychology, 13, 511- 516.
Knapp, S., & VandeCreek, L. (2000). Real-life vignettes involving the duty to protect. Journal of Psychotherapy in Independent Practice, 1, p. 83-88.
Koocher, G. P., & Keith-Spiegel, P. C. (1990). Children, ethics, and the law: Professional issues and cases. Lincoln, NE: University of Nebraska Press.
Koocher, G. P., & Keith-Spiegel, P. C. (2016). Ethics in Psychology and the Mental Health Professions: Professional Standards and Cases (4th Edition). New York: Oxford University Press.
Leonard, J. B. (1977). A therapist's duty to warn potential victims: A non-threatening view of Tarasoff. Law and Human Behavior, 1, 309-318.
Litwack, T. R. (2001). Actuarial versus clinical assessment of dangerousness. Psychology, Public Policy, and Law, 7, 409-443.
MacDonald v. Clinger, No. 991/1981 (N.Y. A.P. Div. January 22, 1982).
Mascaro, L. (2011). Patriot Act provisions extended just in time. Los Angeles Times, May 27, 2011. Retrieved on January 3, 2013 from: http://articles.latimes.com/ 2011/may/27/nation/la-na-patriot-act-20110527.
McGuire, J., Nieri, D., Abbott, D., Sheridan, K., & Fisher, R. (1995). Do Tarasoff principles apply in AIDS-related psychotherapy? Ethical decision making and the role of therapist homophobia and perceived client dangerousness. Professional Psychology, 26, 608-611.
McIntosch v. Milano, 403 A. 2d 500 (N.J. Super. Ct. 1979).
McSherry, B. (2004). Third Party Access to Shared Electronic Mental Health Records: Ethical Issues. Psychiatry, Psychology and Law, 11, 53-62.
Middlebrook, D. W. (1991). Anne Sexton: A biography. New York: Vintage Books.
Morgenthau, T., Lindsay, J. J., Michael, R., & Givens, R. (1982). The unanswered questions. Newsweek, 99, 40.
Murray, J. (2013). The Ithica therapist refuses to turn over notes, charged with contempt. The Ithica Journal, January 18, 2013. Downloaded on January 21, 2013 from: http://www.theithacajournal.com/ article/20130118/NEWS01/ 301170050/ Therapist-refuses-turn-over-notes-charged-contem
Noll, J. O., & Hanlon, M. J. (1976). Patient privacy and confidentiality at mental health centers. American Journal of Psychiatry, 133, 1286-1289.
Nowell, D., & Sprull, J. (1993). If it's not absolutely confidential, will information be disclosed? Professional Psychology, 24, 367-369.
Olmstead v. United States (1928) 100 U.S. 1, 19 F. (2d) 842, 848, 850, affirmed. Retrieved at law.cornell.edu.
Otto, R. K. (2000). Assessing and managing violence risk in outpatient settings. Journal of Clinical Psychology, 56, 1239-1262.
Pabian, Y. L., Welfel, E., & Beebe, R. S. (2009). Psychologists' knowledge of their states' laws pertaining to Tarasoff-type situations. Professional Psychology, 40, 8-14.
Palma, T. V., & Iannelli, R. J. (2002). Therapeutic reactivity to confidentiality with HIV positive clients: Bias or epidemiology? Ethics & Behavior, 12, 353-370.
Parry, O., & Mauthner, N. S. (2004). Whose data are they anyway? Practical, legal and ethical issues in archiving qualitative research data. Sociology, 38, 139-152.
Paul, R. E. (1977). Tarasoff and the duty to warn: Toward a standard of conduct that balances the rights of client against the rights of third parties. Professional Psychology, 8, 125-128.
People v. Poddar, 10 Ca. 3d 750, 518, P.2d 342, 111 Cal. Rptr. 910 (1974).
Post, J. M. (2004). Leaders and Their Followers in a Dangerous World: the psychology of political behavior. Ithaca, NY: Cornell University Press.
Public Law 104-191, Health Insurance Portability and Accountability Act of 1996, August 21, 1996. (aspe.hhs.gov/report/health-insurance-portability-and-accountability-act-1996)
Quattrocchi, M. R. and R. F. Schopp (2005). Tarasaurus Rex: A standard of care that could not adapt. Psychology, Public Policy, and Law, 11, 109-137.
Ritter, M., & Tanner, L. (January 15, 2013). Experts say proposed NY gun law might hinder therapy. Retrieved from http://news.yahoo.com/experts-proposed-ny-gun-law-might-hinder-therapy-164728039.html
Rogers, W. A. (2006). Pressures on confidentiality. Lancet, 367, 553-554.
Rosen, C. E. (1977). Why clients relinquish their rights to privacy under sign-away pressures. Professional Psychology, 8, 17-24.
Rosenbaum, M. (1994). The travails of Martin Orne: On privacy, public disclosure, and confidentiality in psychotherapy. Journal of Contemporary Psychotherapy, 24, 159-167.
Rosenoer, J. (1995). Problems on the Internet: A lawyer's perspective. Ethics & Behavior, 5, 107-110.
Rost v. Pennsylvania Board of Psychology, 659 A.2d 626 (Pa. Commonwealth Ct. 1995).
Roth, L. H., Wolford, J., & Meisel, A. (1980). Patient access to records: Tonic or toxin? American Journal of Psychiatry, 137, 592-596.
Sawyer, J., & Schechter, H. (1968). Computers, privacy, and the national data center: The responsibility of social scientists. American Psychologist, 23, 810-818.
Scott, G. G. (2005). Homicide by the rich and famous: A century of prominent killers. Westport, CT: Praeger
Scott, C. L., & Resnick, P. J. (2006). Violence risk assessment in persons with mental illness. Aggression and Violent Behavior, 11, 598-611.
Shah, S. (1969). Privileged communications, confidentiality, and privacy: Privileged communications. Professional Psychology, 1, 56-59.
Shapiro, D. L., & Smith, S. R. (2011). Malpractice in psychology: A practical resource for clinicians. Washington, DC: American Psychological Association.
Shaw v. Glickman, 415A. 2d 625 (Md. Ct. Spec. A.P. 1980).
Siegel, M. (1979). Privacy, ethics, and confidentiality. Professional Psychology, 10, 249-258.
Smith, S. R. (1996). U.S. Supreme Court adopts psychotherapist-patient privilege. Bulletin of the American Academy of Forensic Psychology, 17, 1-15.
Smith-Bell, M., & Winslade, W. J. (1994). Privacy, confidentiality, and privilege in psychotherapeutic relationships. American Journal of Orthopsychiatry, 64, 180-193.
Stanley, D., & Palosky, C. S. (1997, February 28). Fax drops records in her lap. Tampa Tribune, p. B1.
Stein, M. D., Freedberg, K. A., Sullivan, L. M., (1998). Sexual ethics. Disclosure of HIV-positive status to partners.[comment]. Archives of Internal Medicine, 158, 253-257.
Stone, A. A. (1976). The Tarasoff decisions: Suing psychotherapists to safeguard society. Harvard Law Review, 90, 358-378.
Stone, G. R. (2004). Perilous Times: Free Speech in Wartime from the Sedition Act of 1798 to the War on Terrorism. New York: W. W. Norton.
Strassburger, F. (1975). Problems surrounding "informed voluntary consent" and patient access to records. Psychiatric Opinion, 12, 30-34.
Swidler & Berlin and James Hamilton v. United States U.S. 97-1192.
Tarasoff v. Board of Regents of the University of California, 551 P. 2d 334 (Cal. Sup. Ct. 1976).
Tarasoff duty to warn discussed in three cases; no such duty found in Maryland. (1980). Mental Disability Law Reporter, 4, 313-315.
Taylor, L., & Adelman, H. S. (1989). Reframing the confidentiality dilemma to work in children's best interests. Professional Psychology, 20, 79-83.
Thompson v. County of Alameda, 614 P. 2d 728 (Cal. Sup. Ct. 1980).
Truscott, D. (1993). The psychotherapist's duty to protect: An annotated bibliography. Journal of Psychiatry and Law, 21, 221-244.
United States of America v. Theresa Marie Squillacote (2000). 221 F.3d 542.
U.S. Department of Health and Human Services (2003). Protecting personal health information in research: Understanding the HIPAA Privacy Rule (NIH Publication No. 03-5388). Retrieved September 25, 2003 from privacyruleandresearch.nih.gov
U.S. Department of Health and Human Services. (2006) Medical Privacy - National Standards to Protect the Privacy of Personal Health Information. Retrieved January 15, 2006. hhs.gov/hipaa/index.html
VandeCreek, L., & Knapp, S. (1993). Tarasoff and beyond: Legal and clinical considerations in the treatment of life-endangering patients. Sarasota, FL: Professional Resource Exchange.
VandeCreek, L. & Knapp, S. (2001). Tarasoff and beyond: Legal and clinical considerations in the treatment of life-endangering patients. Sarasota, FL, Professional Resource Press.
Volk v. Dermeerleer, et al. (2016) Supreme Court of the State of Washington, No 91387-1. Downloaded from: courts.wa.gov/content/petitions/91387-1%20Petition%20for%20Review%20Ashby.pdf
Watson, H., & Levine, M. (1989). Psychotherapy and mandated reporting of child abuse. American Journal of Orthopsychiatry, 59, 246-256.
Weisbeck v. Hess, 524 N.W. 2d 363 (S.D. Sup. Ct. 1994).
Weisner, D. A. (2006). From Tarasoff to Ewing: Expansion of the duty to warn American Journal of Forensic Psychology, 24, 45-55.
Werth, J. L., Burke, C., & Bardash, R. J. (2002). Confidentiality in end-of-life and after-death situations. Ethics & Behavior, 12, 205-222.
Werth, J. L., Welfel, E. R., & Benjamin, G. A. H. (Eds.) (2009). The duty to protect: Ethical, legal, and professional considerations for mental health professionals. Washington, DC: American Psychological Association.
Woods, K. M., & McNamara, J. R. (1980). Confidentiality: Its effect on interviewee behavior. Professional Psychology, 1, 714-721.
Yufik, A. (2005). Revisiting the Tarasoff decision: Risk assessment and liability in clinical and forensic practice. . American Journal of Forensic Psychology, 23, 5-21.